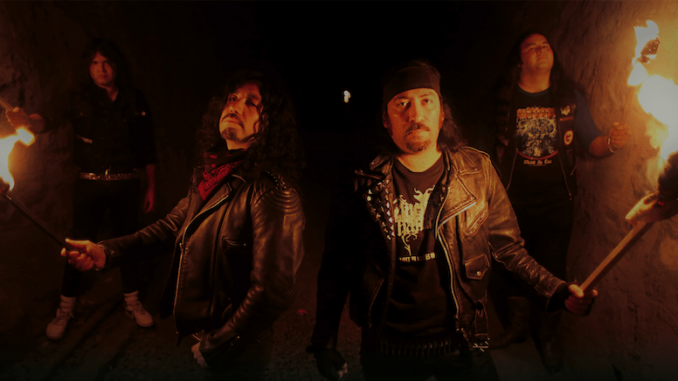 Album Review: Lucifer's Hammer - The Trip
Reviewed by Paul Hutchings
When the band you are reviewing assume the monikers Hades, Hypnos, Tyr, and Titan you really wonder if this is a serious effort or not. It transpires that Lucifer's Hammer, from Chile, are all about heavy metal played in the traditional manner and 'The Trip', their third record, is an enjoyable listen.
At a mere 31 minutes, it's a shortish release but the band know what they like and like what they do. Think Grand Magus, Maiden, Priest etc. and you'll be in the right ballpark. The riffs are in all the right places, the tempo is dramatic, powerful, and the band's playing is solid.
As opening songs go, 'The Oppression' works well. The repetitive chorus isn't anything to get excited about, but the pace is fast, the riffs heavy and the clean vocals a refreshing change in a world dominated by growls. It's a neat introduction to an album that is very well written and performed. The tempo is maintained throughout the record, the soaring 'Forest for Tar Tar' and some neat guitar harmonies on 'Land of Fire' which follow maintaining the interest.
Lucifer's Hammer's roots are deeply embedded in the classic metal of the 70s and 80s and that's no bad thing when the songs are decently composed. 'All Stories Come to an End' includes a classic Grand Magus style chug, with a lovely and unexpected key change adding to the allure of the song; some subtle keys also adding to the track. 'Illusion' maintains the overall feel and drive of the album, the lush melodies blending with some excellent playing, including some classic lead guitar work which demonstrates the band's quality.
The band invested in a good recording studio and that has paid off handsomely because the overall production of this record is crisp, clean, and ideal for their musical style. Although it's not a long album, the songs are memorable, with Hades singing one of several highlights. Another is the beautiful Maiden style dual guitar work on penultimate track 'The Winds of Destiny', which is for me the standout song on the record. The guitar work of Hades and Hypnos impressive. Even the AOR feel of closing track 'I Believe in You' has sufficient steel hidden within it to demand and retain attention, especially with its cracking Samson style breakdown.
'The Trip' is an enjoyable record and for those who enjoy their metal dipped in the old school traditional style, this is one well worth discovering.