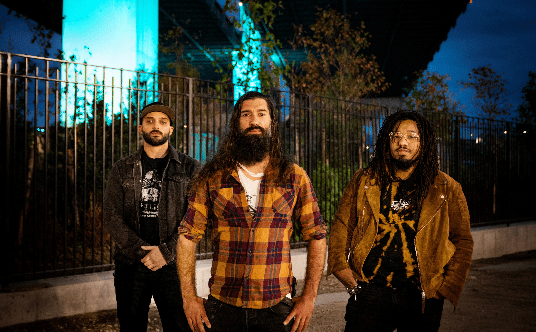 Album Review: Somnuri - Nefarious Wave
Reviewed by Jack Cradock
It's been nearly four years since Brooklyn bruisers Somnuri unleashed their debut eponymous album, and judging by the sounds of Nefarious Wave (June 4th 2021), it seems that the three piece have taken the time to build upon their already very solid foundations, with the end result being an album that retains all the intensity that fans will be used to, and also delivers more of the head down doom/grunge that many aspire to capture.
Opening track 'Tied to Stone' thrashes us into submission as soon as the band get through the door. Starting the album with drums and drawing our attention to them immediately is a fantastic idea, because Phil SanGiacomo's performance may well be the standout across the board.
'Tooth and Nail' maintains the breakneck pace, while interlacing eerie background vocals in the choruses, and glistening guitar melodies. 'Desire Lines' masterfully weaves between major and minor harmony which, combined with haunting, layered vocals, and spaced out lead guitar, makes for an atmospheric experience unlike many heard before. 'Beyond Your Last Breath' hammers the tempo back up, and the band's use of multiple vocal deliveries really shines on this track, and mixes in some fine groove riffs. Speaking of groove…
'Watch the Lights Go Out' opens with a fantastic drum groove that drives the opening of the song. However, if there is a weak point of the album, it's this track. Whereas other songs on the album such as the aforementioned 'Desire Lines' sit quite comfortably in the unique blend that make Somnuri's signature sound, 'Watch the Lights…' feels at times directionless, perhaps haphazard. The ingredients haven't been changed, perhaps they just haven't been cooked right. That outro is brutal as anything though, and all that said, it's still a good song in its own right.
'In the Grey' summons a thick hazy fog for its intro, before giving the grimmest of frost bitten black metal bands a run for their money. Phil SG's playing once more a powerhouse, punctuating phrases and pummelling eardrums. Another belting outro, slowing down the tempo for sludgy goodness. The title track, and my personal favourite, evokes a painful misery, Somnuri once more employing haunting vocals contrasted and coinciding with harsher deliveries. If you turned the gain down on the guitars ever so slightly, this would be a fantastically atmospheric indie anthem. Thankfully, Somnuri don't do that!
The production on this album does exactly what it needs to, with punchy drums, crunchy guitars, and a thick rumbling bass. The vocals are arranged excellently, never getting in the way but never losing any battles with the riffs. Nefarious Wave drops in June, and is not one to miss!