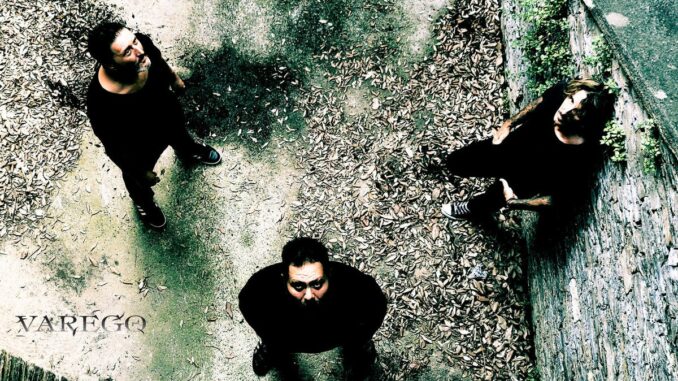 Album Review: Varego - Varego
Reviewed by Robbie Maguire
Not long ago in the classical Italian city of Genoa three guys laboured, crafted and honed their musical vision into a bubbling cauldron of grungy stoner goodness. With a sprinkling of the grit and unease of sludge coupled with a dash of the pulsing hypnotic power of post metal the trio served up a delicious feast of modern metal.
The creative trio were Varego and their feast was their self titled album. Such a striking sound in its own right , an air raid siren gives way to a hefty opening riff that carries such weight and force. However from the opening salvo of 'Tunnel' Varego present to you their gift of easily slipping in choruses that hook you in further to their already entrancing sound. The mid paced groove and dark feel of the throaty vocals create a real sense of character which is heightened further with the joyous cleaner voice.
With a swirling, looping guitar 'Limbo' has a greasy chug and attitude that calls upon the influence of the early grunge heavy hitters. The warmth and freedom of space rock is evident as the song powers on and the refined stoner heavy fuzz gathers momentum.
The drums of Simon Lepore sounds glorious and never overstep or punctuate the songs too much. Theres a hypnotic quality to his style and this rhythmic treat enhances not only the weight of the songs but also their variety. With a fluidity and flair and utilising all manner of his kit it's a joy to hear the drums delivered with such precision. They truly have a character and feel to them and not only orchestrate but ensure that the trio are beautifully locked in as one.
The delicious chorus in 'Death' rises gloriously above the pulsating grunge fuelled drive. A drive that increases with the prescence of a viscous double kick drum. The closet to a mainstream rock song would be the frenzied bass driven 'One' with its raucous yet singable chorus. Whilst English may not be his first language but vocalist and bassist Davide Marcenaro spits, snarls, sings and croons with assured conviction. (Closing track 'Raptus' is sung in his native tongue.) The ideas of war, drugs, madness, death and everything that poisons the lives of humans is the impetus behind the seven tracks. These lyrics certainly do add much more than just a mere addition to the songs and poignant, insightful words pronounce the aural experience.
As the grimey Seattle grunge and the raw energy of the Californian desert stoner sound come to communion in 'Wave' this album erupts in a joyous cacophony of restrained noise. The bustling energy and vibrancy still reigns throughout and it's not till closing track 'Raptus' ('Un Passo e Muori') (literally translated as 'Raptus - One Step and you Die') that theres a moment for reflection. It's only a brief pause though as the ambience is interrupted whilst choppy, thunderous chords rain down. A wonderfully soaring solo is a fitting climax to this self titled album.
'Varego' is a gloriously punchy and weighty delicacy which will indeed satiate the appetite of those looking for an instant fill of catchy heavy stoner and post infused metal.