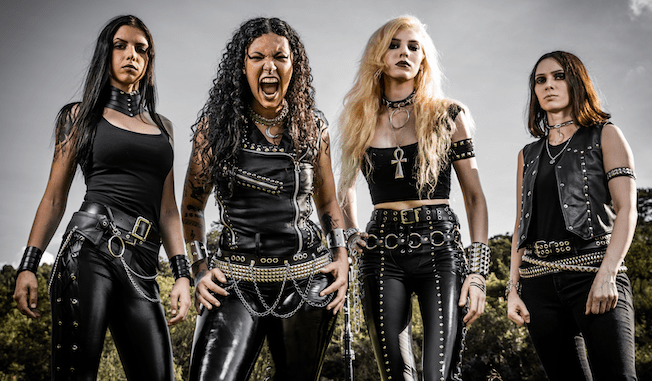 Album Review: Crypta - Echoes of the Soul
Reviewed by Paul Hutchings
When Brazilian thrashers Nervosa haemorrhaged two thirds of their line up in 2020, attention focused on how the band would continue. Nervosa have roared back with a new line up and a solid 2021 release in 'Perpetual Chaos' but what happened to the two members who left, vocalist and bassist Fernanda Lira and drummer Luana Dametto. Well, fret no more, for the duo have teamed up with ex-Dead Witches and current Cobra Spell's Sonia Anubis and fellow guitarist Tainá Bergamaschi (Ex-Hagbard). These four ladies have joined forces to bring Crypta roaring and screaming into the world, and with Echoes of the Soul they have produced an album of exceptional quality.
Whilst it's unsurprisingly a polished and confidently produced affair with some heavyweights at the mixing desk in the shape of Arthur Rizk (Code Orange, Powertrip etc.) and mastering by Jens Bogren (Opeth, Dimmu Borgir, Sepultura etc.), there is a rawness that surges throughout the record. Crypta have combined the essential fire of a debut album with a level of quality that is far above what is expected.
The name Crypta means underground chamber or crypt of course, and the intro 'Awakening' provides the atmospheric sounds of the crypt being opened, and the shock as the coffin lid slides eerily open. This is merely a deep breath before the plunge, because from here it's all cranial obliteration – this is a band which means business and the horror-ridden 'Starvation' is as brutal an introduction as you could expect. Lira's vocals are harrowing, a cacophony of witches screams and harpy wails, this is a voice that could peel paint. It's the sound of a woman possessed, but obviously possessed with a drive to push this new band to greater heights. Dametto's drumming is off the scale, her pummelling bass kicking anchoring a punishing rage of fills, hammering snare, and crashing cymbals. The speed is intoxicating. With dual guitars, Crypta are afforded the luxury of increased heaviness whilst intricate patterns weave and fill the space. Both guitarists provide fine demonstrations of their skill and quality.
There are many highlights on the album but the sheer explosive aggression that rages from the start is incredible. 'Death Arcana' and 'Shadow Within' could cause serious pit damage, whilst things are slowed down to genuine old school pace with the atmospheric 'Under the Black Wings' which starts slowly before erupting into a high tempo face scratching. Lira's delivery has echoes of Angela Gossow, possibly the best harsh singing female vocalist, but Lira runs her close with her range, switching between deep throated rumbling roars and those higher pitched shrill screams. It's fantastic stuff and a real fist to the face.
If you have any skin left by halfway through then the second part of this record should ensure that moisturiser is a thing of the past for 'Kali' and 'Black Stained Heritage' maintain the intensity and pace, all punishing riffing and hammering drumming. There is honestly no let up throughout the entire record, with the darkness that the band have captured casting long shadows. The blend of thrash, death and even black metal provide an unforgettable palette from which Crypta have crafted out an album of quality. The band are touring the UK in 2022 with Deicide and if they play half as well as here, that should be a tour well worth getting on board with.