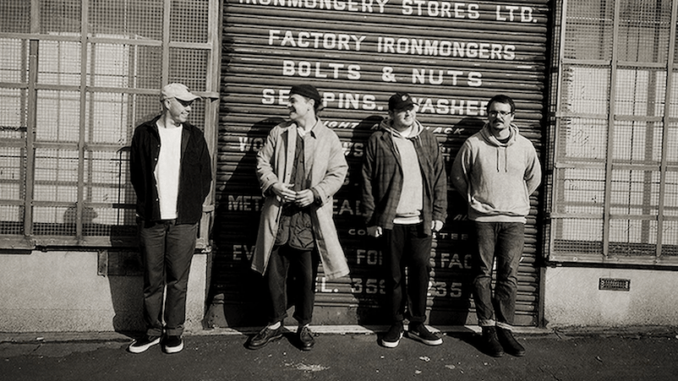 E.P. Review: Outlander - Sundowning/Unconditional
Reviewed by Dan Barnes
This eighteen minute, two-track E.P. is the first Outlander release since 2019's The Valium Machine and finds the Birmingham four-piece in something of an introspective mood.
Sundowning opens with a huge low end and a post-metal riff that is sombre in tone and, as it repeats itself, develops a gothic tinge. The low end seems unstoppable until the introduction of the guitar which feels like it is acting against the hypnotism of the riff, drilling back into it, opening it up. Throughout Sundowning, Outlander use the motif of creating instrumental passages and augmenting them it threads of subtle guitar, suggesting musical ideas which, in turn, elevate the rich deep sounds to new heights. Both slow and introverted while at the same time immersive in scope and execution, Sundowning is an addictive experience.
Unconditional feels more expansive than Sundowning, even more epic in its breadth whilst being slow and glacial in the delivery. The bass is prominent across Unconditional and as it anchors the track, layers of instruments are stacked atop each other, rendering an already substantial weight of music a devastatingly heavy sound. Throughout Unconditional Outlander use spaces in the music, moments of respite, to demonstrate their uncompromising vision. Those spaces allow the music to breathe and to form a juxtaposition between the harsh sounds and the moments of peace. The low bass rumble as Unconditional lumbers to a climax forms a foundation from which the guitars can take flight, dispensing light chords as the drum counts out a restrained beat.
Both Sundowning and Unconditional are largely instrumental tracks but when the vocals arrive that do so in a spectral whisper of post-rock shoegaze, adding another layer to the music.
Although short in running time, Outlander's latest does not skimp on the weight. Massive, mountainous riffs are matched with subtle guitar to create an immense and immersive listening experience. Epic in scope yet, at the same time, deeply introverted.