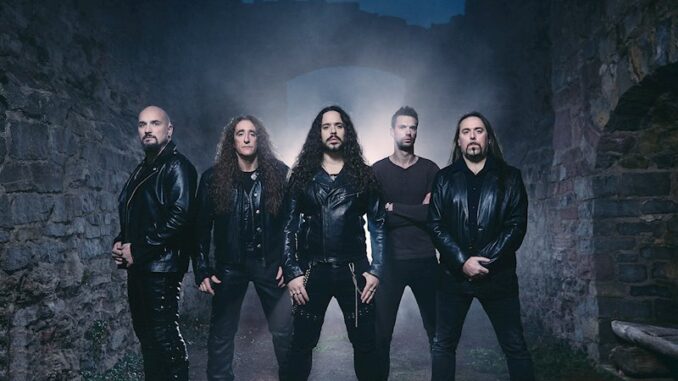 E.P. Review: Rhapsody of Fire - I'll Be Your Hero
Reviewed by Richard Oliver
It always gets a bit confusing which Rhapsody you are getting a new release from as there have been so many different iterations of the band but what we have here is a new E.P. from the Alex Staropoli headed Rhapsody Of Fire ahead of an upcoming album. Being an E.P. it is a bit of an odds and sods collection of material with new songs, previously unavailable material, live recordings and multilingual versions.
The new material comes in the form of a single edit of I'll Be Your Hero which is a far more traditional power metal sound rather than the bombastic symphonic power metal sound the band are known for. It's a great little song and oozes more cheese than a baked brie. Following that we get a re-recording of Where Dragons Fly which was originally recorded in 1998 and released as a B-side to the Emerald Sword single and it is a far more relaxed and medieval sounding song. Live versions of Rain Of Fury and The Courage To Forgive follow and are fantastic quality and showcase the power and energy of the bands live performances. Finishing off the E.P. is the previously available ballad The Wind, The Rain And The Moon from 2019's The Eighth Mountain which is then followed by Italian, Spanish and French language versions of the song. These multiple versions are rather excessive and feel thrown on to pad out the E.P. a bit more.
I'll Be Your Hero is a mixed bag of an E.P. and is either a bit of fan service or a bit of a cash in by the band and label. The only thing of interest here to the casual listener would be the new song and even that is a cut down version of the full thing. Unless you are a die hard fan of the band then this E.P. isn't really necessary and you are better off waiting for a new album which is due to follow soon.
Rhapsody of Fire release 'I'll Be Your Hero' via AFm Records on June 4th. Order your copy here.