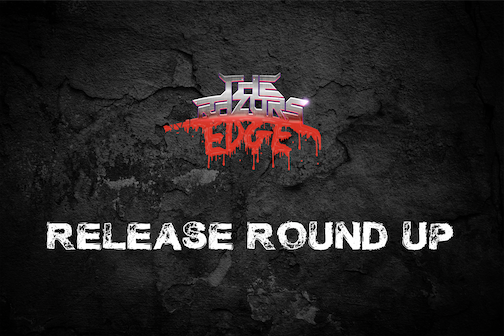 Release Round Up - June 4th
Every Friday there is a tidal wave of new music released unto the world. Whilst we try to cover as much as possible here at The Razor's Edge, it's not always possible to review everything. So each week on a Friday we'll round up some of the best new music available, some we've reviewed, some we haven't, but all worth checking out!
Theres a lot of new heavy music hitting the airwaves this week, everything from black metal, death metal, gothic metal, Stoner rock, doom, thrash metal and even some of your traditional heavy fuckin' metal!
Here's what we think you should check out today!
Epic thrashers Flotsam & Jetsam drop an album of the year contender this week in Blood In The Water (AFM Records).
"The hooks are deep, the groove irresistible and whilst the thrash purists may argue through their keyboards as to whether this is true thrash or not, no-one else gives a toss. Just dive deep into the goodies on offer."
Read our full review here and check out our interview with Ken Mary here.
Swedish death metal bruisers Sickrecy drop a bombshell this week in 'First World Anxiety' which is released via Spikerot Records.
"Just in case Cannibal Corpse thought that they were going to romp unopposed to the Death Metal title in 2021, along comes Sickrecy, debut EP in hand and a hold-my-beer kinda swagger."
Read our full review here.
Brooklyn bruisers Somnuri unleash a beast of a sophomore album in 'Nefarious Wave'. Which comes out this week on Blues Funeral Recordings.
"The title track evokes a painful misery, Somnuri once more employing haunting vocals contrasted and coinciding with harsher deliveries. If you turned the gain down on the guitars ever so slightly, this would be a fantastically atmospheric indie anthem. Thankfully, Somnuri don't do that!"
Read our full review here.
Don't let the name fool you, Goat Sanctuary drop a brutal slab of thrash metal this week in new E.P. 'Chthonic'.
"Combining elements of thrash and the ferocious edge of early Mastodon, the band power through five muscular tracks with an underlying rage that fuels their aggressive style."
Read the review here.
Eternal Struggle emerge from Tel-Aviv, their style of hardcore forged by the environment their grown up in. They release 'Year of the Gun' this week via Upstate Records.
"It's aggressive, direct and comports itself with a swagger, in fact everything you could want from a modern Hardcore record. But best of all it's an honest album in which the trials and tribulations are delivered from experience."
Read our full review here.
Greek outfit ΛΔΛΜ amassed a huge 200,000 streams for their digital only release 'Sun'. This week is finally gets a physical release via 'Venerate Industries'.
"An excellent mix of 90's style alternative grunge and darker European metal is achieved by ΛΔΛΜ, and it is easy to see why this album has already amassed over 200,000 streams already."
Read our full review here.
Progressive outfit King Buffalo have been busy in lockdown, and this week 'The Burden of Restlessness' is the first in a series of three albums due out this year.
"You know when you listen to just one track of an album and you are sure you are going to like the album as a whole? Well I experienced this on my first time round."
Read our full review here.
The brilliantly named Spanish thrashers Redshark drop a heavy slab of aggressive riffs this week on new album 'Evil Realm'.
"Redshark's energy is undeniable, and if you enjoy the 80s speed metal of Exciter, Razor and Abattoir as well as early Maiden or Priest, then this should be worth a listen."
Read our full review here.
Folk inspired, black metal outfit Sojourner, release a new E.P. this week with new vocalist Lucia Amelia Emmanueli.
"This brief but welcome slab shows that Sojourner is still able to produce masterfully melodic and atmospheric black metal pieces."
Read our full review here.
And thats just the tip of the iceberg! Other releases today we think you should check out include...
Heavy Metal
Van Canto - To The Power of Eight (Napalm Records)
Starlight Ritual - Sealed in Starlight (Temple of Mystery) 
Shun - Shun (Small Stone Records)
Lycanthro - Mark of The Wolf (Alone Records)
Zennui - Kingdom Jones and the Atom Heart Family (Self-released)

Classic Rock
Dave Burn - Nothing Is As It Seem (Self-released)
Eyes - Perfect Vision 20/20 (GMR Music)
Death Metal
Worm Shepherd - In The Wake Ov Sòl (Unique Leader)
Cyclops Cataract - The Bestiary (Planet K Records)
Killing Addiction - Mind of a New God (Xtreem Music)
Casket - Urn (Neckbreaker Records)
Decapitated - The First Damned [Early demos] (Nuclear Blast Records)
Inhuman Condition - Rat God (Black Serpent Records)
Interpolant - Arbor (Terminarch Records)
Plaguestorm - Purifying Fire (Noble Demon)
Soul Grinder - Lifeless Obsession (MDD Records)
With All My Hate - Impaired Existence (Amputated Vein Records)
Despising Age - Belligerent (Planet K Records)
Black Metal
Klamm - Misanthropocene (Disharmonia Records)
Myronath - Djevelkraft (Hellstain Productions)
Stoner Rock / Doom / Psych Rock
Liholesie - Shamanic Twilight (Infinite Fog Productions)
Circle of Sighs - Narci (Metal Assault Records)
Wooden Veins - In Finitude (The Vinyl Division)
Indrid Cold - Monument Prázdnoty (Sliptrick Records)
Nephila - Nephila (The Sign Records)
Black Moon Mother - Illusions Under the Sun (Petrichor)
Boss Keloid - Family The Smiling Thrush (Ripple Music)
Blackoutt - The Culture Of (On Parole)
Red Fang - Arrows (Relapse Records)
And the rest...
Desaster - Churches Without Saints (Metal Blade Records) [Extreme metal]
Not Moving - Live in the 80's [Re-issue] (Go Down Records) [Garage / punk]
All Wasted - Burn With Me (WormholeDeath Records) [Groove Metal]
Superbloom - Pollen (Self-released) [Grunge]
Hellgreaser - Symphonies of Horror - Ten Years of Hellgreaser (Sick Taste / Sunny Bastards) [Horror Punk]
W!zard - Definitely Unfinished (Luik Music) [Noise/Post-punk/post-hardcore]
Rhapsody of Fire - I'll Be Your Hero [E.P.] (AFM Records) [Power Metal]
Intentional Trainwreck - Smokestack of Souls (Self-released) [Progressive Metal]