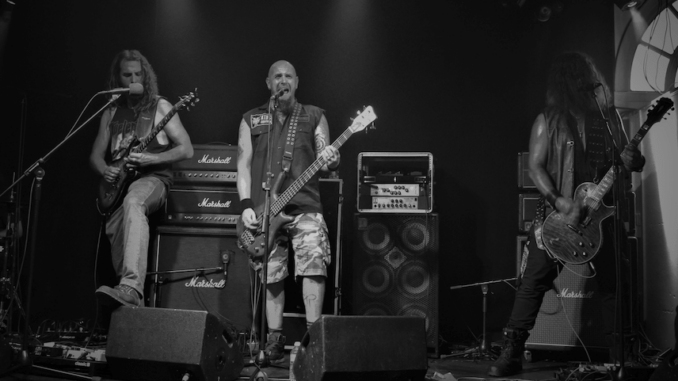 Live Review: King Creature / Blind River - Bristol
30th May 2021
Review and photos by Paul Hutchings
Waking up with that post gig ringing in the ears is something that I thought I might never experience again. And whilst the tinnitus isn't always welcome, especially in my advancing years, this one was something to be ushered in with open arms and a warm glow in the heart. For live music, albeit at a slightly awkward socially distanced arrangement, is back and who better than two of the UKs most exciting live bands to ring the bell and encourage us to shout it from the rooftops.
It's a credit to King Creature and Blind River that they've grasped the opportunity with both hands and dug in. This weeklong tour meant time off work, travelling the length and breadth of England and apparently, playing to 18 people in Newcastle at the start of the tour as well as sell out houses in Norwich and Plymouth. The first of consecutive gigs found Mrs H and me at The Lanes in Bristol, a curious venue that combines a bowling alley and gaming area with a live music area that I estimated sat about 50 – 60 excited and enthusiastic heavy rock fans. There wasn't much room for many more, such is the way with these seated gigs.
First up, Cornwall's King Creature, who I've seen several times and who usually impress in the live setting. This was no exception as the quartet launched into their 50-minute set drawn from their three albums, 'Vol 1', 'To the Bone' and last year's 'Set the World On Fire'.
These guys play heavy groove driven metal, with ample melody but full balls to back it up. Dave Kellaway led from the front, his driving bass lines and clean rich vocals the perfect tonic for these gig starved ears. Flanked by the dual guitars of Mike Stennett and Matt Vincent, and anchored by the steady drumming of Jack Sutton Bassett, King Creature did it all. Thick in your face riffs, punctured by the odd mellow moment, and even the audacity to encourage a singalong on favourite 'Lowlife', which was delivered with much gusto by the assembled crowd. Headbanging, fist pumping and general enjoyment – it was all there.
King Creature are hardened road warriors. They toured as main support to Phil Campbell and the Bastard Sons in winter 2019, are returning to Bloodstock this summer (fingers crossed) and are a well-oiled machine. By all accounts, they like a drink, but they were fuelled by nothing but joy on this occasion.
2020 saw Guilford's finest sons, Blind River, release their second album, 'Made of Dirt'. The band's habit of road testing their material before recording it meant that they were comfortable with their songs way before this tour but for many of us, this was the first opportunity to hear some of those gems live.
If you've ever seen this band, you'll know that that live, they are a juggernaut. A car racing downhill with no brakes, the racehorse with no rider; you get the picture. It was no different this time, an absolute riff fest with that infectious groove that ensures that your legs are jumping as if possessed from start to finish. It was a challenge to remain in your seat.
With a similar 50-minutes, Blind River roared through their set, with Harry Armstrong's between song banter a mix of gratitude for all involved in any aspect of the event and a genuine relief to be back up on that stage, even if there was a bizarre white line that none of the band were allowed to cross. (You did Harry, I saw you!)
As well as what I would call classics from their self-titled album, we got 'Horsehead', 'Made of Dirt' (which was superb), 'Acid Tongue' and 'Burn the Sun' from the new release, and all were lapped up by the crowd. Surprisingly, a few of the King Creature loyalists left during Blind River's set, but those that were there to the bitter end were royally treated. The set closer 'Can't Sleep Sober', surely the band's anthem, brought the proverbial roof down and at long last we leapt to our feet in appreciation of an evening of fine music and relative normality.
We may have a way to go, but the sights and smells of a live gig were just incredible. Huge thanks to both bands; we had a blast. Welcome back. You did us proud!
All photo credits: Paul Hutchings