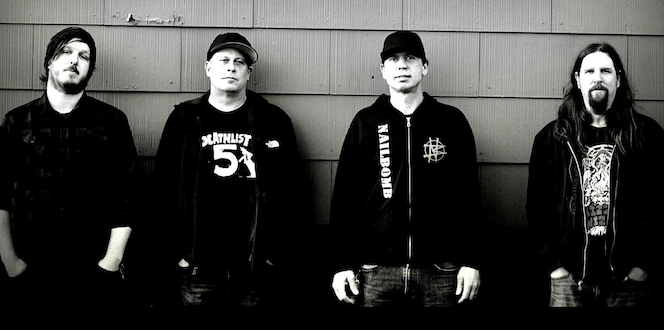 E.P. Review: Goat Sanctuary - Chthonic
Reviewed by Paul Hutchings
One might expect a Goat Sanctuary to be a calming, peaceful place, where mistreated creatures could spend their final days in an area of gentle relaxation and safety. Well, put that image to one side because this crushing five-track E.P. from Settle's Goat Sanctuary is a nasty, angry little rager.
Combining elements of thrash and the ferocious edge of early Mastodon, the band, which comprises drummer Tim Mullen, vocalist Simon Crawley, guitarist Zach Cook and bassist Brent Powell, power through five muscular tracks with an underlying rage that fuels their aggressive style.
The band kick off this record with the blistering 'Cthulhu' before 'Hail to the Goat' brings the band in line with many of the blackened thrash outfits around today. I'm talking Devastator, Midnight, Hellripper, Werewolf and Bewitcher for started. It's nasty, uncomfortable and with an infatiguable riff which hooks in deep and refused to let go.
The slower but riff heavy 'Shark Teeth' pushes the band briefly towards a doom filled chasm which then pulls away with a fine piece of acceleration like an Audi at the traffic lights. Powell's pulsing bass lines are particularly memorable, dominating without overpowering. It's high energy punk feel, and roaring vocals are maintained into next song 'Drain the Blood' which is just as feisty. In fact, there is a real punk/hardcore ethic to this E.P. which clocks in extremely fast at around the ten-minute mark. It's a decent taster for what could well become a rather interesting band.