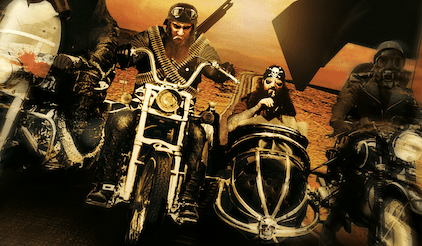 Album Review: Dragon's Kiss - Barbarians of the Wasteland
Reviewed by Paul Hutchings
Very much a retrospective reissue, 'Barbarians of the Wasteland' is the sole full-length release from the band formed and very much controlled by Hugo Conim and Adam Neal. Both musicians have their musical fingers in several pies, with Neal still an active member with Savage Master alongside a few others. This record was initially released in 2014 and combined the basic components of classic heavy metal with thrash and speed metal.
This reissue is the precursor to new material from the band later this year in a new EP but for now it's worth sitting back and enjoying the 40 minutes of sheer mayhem that Dragon's Kiss deliver. Solid, muscular, and full of anthemic riffing, 'Barbarians of the Wasteland' opens with the powerful title track which should have those metal gloved fists punching the air in homage.
The tracks go by the kind of titles you'd expect. 'Ride Til We Die' and 'Wild Pack of Dog's are two burly, fiery songs that stir the metal loins. This is music to fight to, drink beer to and stand manfully around a blazing fire. Things take a slower and more measured pace with the majestic 'Somewhere Up in the Mountains', which increases the heaviness to compensate for the slightly less frenetic pace. It's still a huge slab of metal, with searing solos, pulverising rhythm section and a mighty feel that sits well with those who like their metal cooked the classic way. This is old school in feel and weight.
Two weightier songs come towards the end, with 'Castle of the Witch' containing a distinctly Cirith Ungol flavour. It's a pounding slab of classic metal, and one that you can't help nodding along to. Similar feelings emerge on the finale, the band's anthem, 'Dragon's Kiss' which fair belts along, sharing heavy riffs with a natural Portuguese flavoured acoustic enhancement.
There's little to dislike on this reissue. I'd not come across them before, so it's been an opportunity to continue the never-ending voyage of discovery. If you like your metal heavy with a blend of the old school and the contemporary, then this is an album well worth spending time with. I thoroughly enjoyed it.