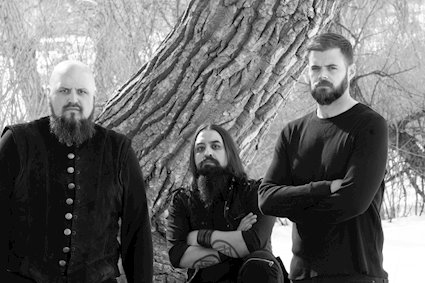 Album Review: Fell Harvest - Pale Light In A Dying World
Reviewed by Matthew Williams
Following on from the release of their debut E.P. in 2020, doom metallers Fell Harvest are bringing their first full length record to the masses with the release of 'Pale Light in a Dying World'. Coming out of the rodeo loving Cheyenne, Wyoming, the 3 piece deliver a very impressive slab of doomy, gloomy goodness.
Written and recorded during the COVID pandemic, its hard to disassociate what was happening around that time from the music, especially as vocalist and bassist Joseph Fell, couldn't sing the same harsh way after COVID damaged his lungs, so his vocals are cleaner and make for an interesting listen.
The opening track, 'Titanicide' begins with such a sweet sounding riff, that I bust out my trusted air guitar and play along. The riff is simple yet effective before the slowness kicks in, drummer Angel Enkeli pounding the skins hard complementing the string skills of Fell and guitarist Liam Duncan. It's a fantastic opening track and leads the way for the rest of the album.
Inspired by a walk on a dark winters morning, 'Pale Light in a Dying World' has a grim and cold feel to it, something that everyone can relate to, and the acoustic section feels melancholy before the heavy doom riff kicks the song back into play.
'The Lark at Morning' is a straightforward doom song before 'The Wind that Shakes the Barley' nods towards the classic Irish ballad, full of melody and sorrow, before they launch headfirst into an intense drum and riff combo, which I personally love, definitely something that The Saw Doctors could never have written or performed.
The album concludes with two excellent songs 'The Barren Fields' which displays their versatility and has so many killer riffs whilst 'The Ghosts of Scapa Flow' is a 9 minute doom odyssey.
Throughout the album you can hear several musical influences, showcasing the trio's diversity and musicianship, and it reminds me a lot of a favourite band of mine The Gates of Slumber, so if you like them, or doom music in general, Fell Harvest are definitely one to keep an eye on