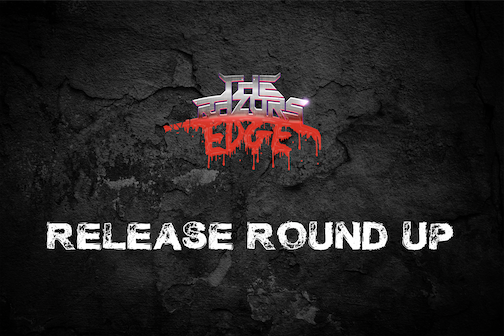 Release Round Up - November 5th
Every Friday there is a tidal wave of new music released unto the world. Whilst we try to cover as much as possible here at The Razor's Edge, it's not always possible to review everything. So each week on a Friday we'll round up some of the best new music available, some we've reviewed, some we haven't, but all worth checking out!
Theres a lot of new heavy music hitting the airwaves this week, everything from black metal, death metal, gothic metal, Stoner rock, doom, thrash metal and even some of your traditional heavy fuckin' metal!
Here's what we think you should check out today!
Danish blackgazers Møl mean businbess with new album 'Diorama' released on Nuclear Blast this week.
"A churning maelstrom of frantic riffing, it gives way to soaring melodies that paint a cinematic soundscape."
Read our review here.
Finnish melodic death metal outfit Omnium Gatherum return this week with 'Origin' on Century Media Records.
"Album number nine may just be the finest hour for Omnium Gatherum."
Read our review here.
The unique black metal of Gaahls Wyrd is unleashed in new album 'The Humming Mountain' released this week via Season of Mist.
"Broad in its scope, yet intimate in its ferocity, WYRD have again put together a beacon for others to follow."
Read our full review here.
Salem doom masters Mother Iron Horse release new album 'Under The Blood Moon' via Ripple Music this week.
"The wonderfully crafted eight songs on 'Under the Blood Moon' is escapism in its purest form"
Read our full review here.
The blackened death metal of Autokrator spews forth this week on their new album 'Persecution' released via Krucyator Productions.
"Persecution is raw relentless death metal at its finest."
Read our review here.
Portrayal of Guilt's third full-length album 'Christfucker' gets released this week.
"Perhaps one of the most dark and bleak albums you'll hear this year."
Read our review here.
Cystectomy unleash the brutal 'Deprive to Hollowness' this week on Comatose Music.
"They deliver a substantial pounding to your ear drums with a severe dose of brutal slamming riffs."
Read our full review here.
Diablo Swing Orchestra release and album that walks the tightrope between genius and insanity. 'Swagger & Stroll Down The Rabbit Hole' is released this week via Candlelight Records.
"Possibly the craziest album I've heard in 2021 but also one of the most fun and impressive listens."
Read our full review here.
Self styled protagonists of "death western" Spiritworld drop their stunning debut album on Century Media this week.
"The band exhume riffs that would not be out of place on a Slayer record and add a hint of additional brutality into a wall of sound like no other I have heard this year."
Read our full review here.
London-based art-punk four-piece Brazen Hussies release 'Year Zero' this week, an anthology of their career.
"Rough examples of a punk attitude and sociopathic swagger"
Read our full review here.
Extinction A.D. throw down a huge slab of brutality in new E.P. 'Chaos, Collision, Carnage & Propaganda' released this week on Unique Leader Records.
"Brutal vocals, extreme breakdowns, massive solos and big choruses."
Read our full review here.
And thats just the tip of the iceberg! Other releases today we think you should check out include...
Rock / Hard Rock / Classic Rock
Catalysts - Sparks [EP] (Dharma Records)
Family Man - The Dark (Ranch Records)
Guns For Girls - Universal Ice Breaker [Single] (Self-released)
Looking For Medusa - Perseus (Rock City Music)
Schattenmann - Chaos (AFM Records)
The Catechist - Faded Away… Rust And Strings (Tortonia Records)
Heavy Metal
Apollo Stands - Interstellar (Self-released)
Breed of Aggression - This Is My War (Self-released)
Bullet for My Valentine - Bullet for My Valentine
Bulletproöf - Dynamite (Self-released)
CrΩhm - Paindemic (Self-released)
Disbeliever - Archetype (Revalve Records)
Emma Ruth Rundle - Engine Of Hell (Sargent House)
Old Man Wizard - Kill Your Servants Quietly (Self-released)
Sandstone - Epsilon Sky (Limb Music)
Signum Draconis - The Divine Comedy: Inferno (Rockshots Records)
The Three Tremors - Guardians Of The Void (Steel Cartel)
Death Metal
Aeons Abyss - Terror Manifest (Self-released)
Bone Tower - We All Will Die One Day [EP] (No Funeral Records)
Bryan Eckermann - Plague Bringers (Self-released)
Death Has Spoken - Call Of The Abyss (Self-released)
Funeral Chant - Dawn Of Annihilation (Carbonized Records)
Gold Spire - Gold Spire (Chaos Records)
Heads for the Dead - Slash 'n' Roll (Transcending Obscurity Records)
Sarke - Allsighr (Soulseller Records)
Sense of Noise - Sense of Noise (Self-released)

Thrash Metal
Demonztrator - Sinister Forces Of Hatred (Self-released)
Thraxas! - Planetary Terrorism [EP] (Self-released)
Black Metal
Bornholm - Apotheosis (Napalm Records)
Lithik - Weather The Storm (Self-released)
Treha Sektori - Rejet (NoEvDia)
Uranium - Wormboiler (Sentient Ruin)
Usquam - Reborn [EP] (WormholeDeath Records)
Stoner Rock / Doom / Sludge
Adliga - Vobrazy (Self-released)
Deber - Aspire to Affliction (Personal Records)
Green Desert Water - Black Harvest (Small Stone Records)
Fearout - Bleedthrough (Inverse Records)
Rongeur - Glacier Tongue (Fysisk Format)
And the rest...
Realation - What Lies Beneath [EP] (Self-released) [Grunge/Alt-Metal]
Nequient - Collective Punishment [EP] (Nefarious Industries) [Hardcore]
Blind Tiger - Blind Tiger [EP] (Self-released) [Hardcore/Metalcore]
SeeYouSpaceCowboy - The Romance Of Affliction (Pure Noise Records) [Hardcore/Punk]
Like Moths To Flames - Pure Like Porcelain' (UNFD) [Metalcore]
Ivar Bjørnson & Einar Selvik - Hardanger [EP] (By Norse) [Neofolk/Progressive Black Metal]
Thangorodrim - Liberation In Unbound Chaos 666 (Blood Blast Distribution) [Occult Rock]
Sea Sleeper - Nostophobia (Metal Assault) [Post-Death/Prog]
Black Map - Melodoria (Minus Head) [Post-Hardcore]
Duncan Evans / Wilderness Hymnal - Until Liars Fear You [SPLIT] (Trepanation Recordings) [Post-Metal]
Maudits - Angle Mort [EP] (Klonosphere Records) [Post-Metal]
Moonshine Oversight - The Frame (WormholeDeath Records) [Progressive Metal]
Brazen Hussies - Year Zero' An Anthology (Jezus Factory Records) [Punk]