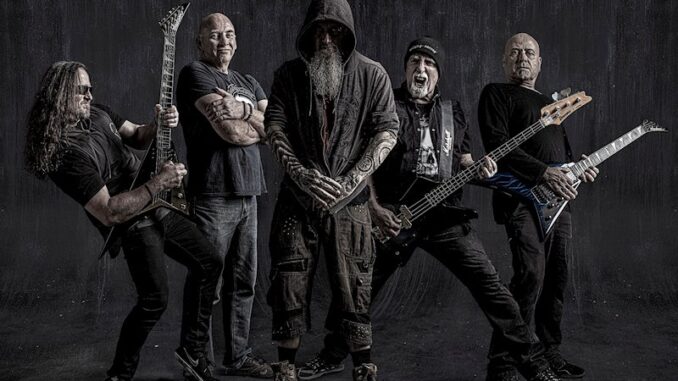 Album Review: Nothing Sacred - No Gods
Reviewed by Richard Oliver
Twenty three years after their last album, Aussie thrashers return with their new album No Gods. Despite considering myself a thrash metal aficionado, Nothing Sacred are not a band that I've ever heard of but have a strong following especially in their native Australia and their prior releases - 1985's Deathwish E.P. and 1988's Let Us Prey album - have a cult status. The band originally disbanded in 1989 but reformed in 2012. Original members Karl Lean (bass), Sham Littleman (drums) and George Larin (guitars) remain in the band but have been joined by Stuart Bedford (guitars) and James Davies (vocals) who both joined the band last year.
With a cult thrash reputation if like me you are expecting an album of killer old school thrash metal then prepare to be disappointed. Although there definitely are thrash elements present in the music it is not the overriding factor with more influences coming from groove metal, traditional heavy metal, alternative rock and hard rock. Songs such as Virus are definitely far more on the hard rock side of things whilst First World Problems very much has a 90's alternative rock vibe to it and Cold Black leans into traditional metal territory with some influences coming from Iron Maiden. The thrashier songs are definitely the strongest in my opinion with Final Crime, Ice and Oracle being the highlights of the album for me though some non-thrash elements also creep into these songs. When the songs do thrash it is a more melodic style of thrash especially with the vocal delivery of James Davies. Unfortunately James doesn't have the strongest vocals going with a very nasally tone and the vocals lack much grit and power. The songs themselves don't have a lot of staying power though it has to be said that the musicianship throughout is top notch with some fantastic guitar solos from both guitarists littered throughout the album.
No Gods feels like a bit of an anticlimax especially as it has been twenty three years since the band last released any new material and as I was expecting a face ripping thrash album I can't help but feel disappointed with this album. Props to the band that they try and incorporate different sounds and styles throughout the album but for me it just doesn't really work and some lacklustre songwriting and an ill fitting vocal performance add to the disappointment. No Gods is by no means an awful album but I won't be rushing to listen to this again any time soon.