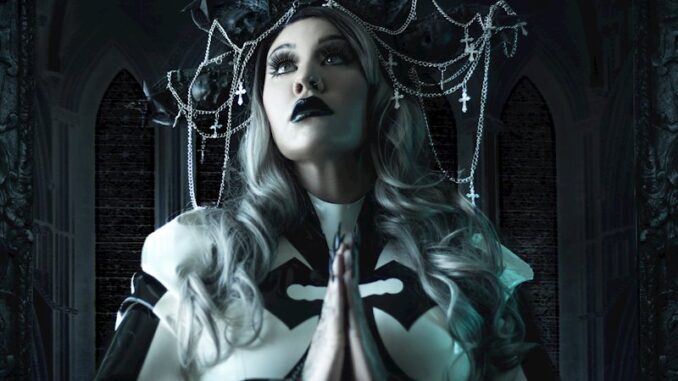 E.P. Review: Lexi Layne - Sinner & Saint
Reviewed by Carl Black
Teenagers can be an enigma to anyone who comes into contact with them. Parents, teacher's, best friends, it doesn't matter. Trying to work out what they want when they want it can be an absolute nightmare. I'm sure we've all come into contact with young people of this age group. 'Sinner & Saint' by American singer/songwriter, Lexi Layne, reflects that time period perfectly. Full of angst, contradictions and dare I say confusions. One minute they are dying their hair all the colours of the rainbow and wearing a ripped jean with fishnet tights poking through the holes while donning dark fingernails, while two minutes before they were putting their cuddly toys away and their cupboard.
Lexi has bottled this period perfectly within these five tracks. One minute it's dashingly emotional the next it's hard as nails and nasty. It covers that span of emotions, sad, mad emotional, nasty, sexual, wicked, kind, happy and then back to sad all within the time it takes to listen to this E.P. The opening track 'Dominate'" has a sexual feel about it, drenched in electronica with a massive Gary Numan hook and A "hey boys… hey girls" breakdown in the middle, epically commercial with that all too familiar American production behind it. Girls can rock harder than guys and here we see evidence of that on 'Self Sabotage'. Gruff backing vocals and double bass drumming coming in at the later stages of the song with interesting cleverly elaborations of each part which develops as the song continues. This is by far the best on offer here. The emotions spill out on 'Bloodless' and 'Lost Soul'. Heart-breaking tear jerkers that could easily appear on a teenage movie soundtrack, possibly about vampires. The title track has a huge chorus while still having those touches of electronica and commerciality about it.
This is exactly the type of music I would expect from a young woman being raised in America to record at the moment with influences from the past 10 years or so very prevalent. This is an already cluttered market of female vocalists in heavy music that touch upon the emotional side and have an electronic base within their sound. The trouble with cluttered markets is you need to shout above the noise and we have plenty of young women from America screaming at the top of their lungs at the moment and have been for the past few years. Where this five track E.P. finds itself is very difficult to tell. There is talent, passion and graft. It's nice to have the variety but neither style is really hitting the mark at this point. All teenagers fight every battle. Sooner or later you choose the battles you fight. Lexi Layne needs to choose her battle and fight it head on.