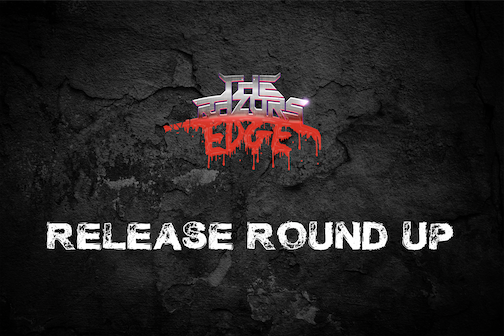 Release Round Up - October 28th, 2022 
Every Friday there is a tidal wave of new music released unto the world. Whilst we try to cover as much as possible here at The Razor's Edge, it's not always possible to review everything. So each week on a Friday we'll round up some of the best new music available, some we've reviewed, some we haven't, but all worth checking out!
Theres a lot of new heavy music hitting the airwaves this week, everything from black metal, death metal, gothic metal, Stoner rock, doom, thrash metal and even some of your traditional heavy fuckin' metal!
Here's what we think you should check out today!
British rock sensations Massive Wagons are back with 'Triggered!' out on Earache Records this week.
"The album is a statement of the current climate whilst seeing the band grow as individuals and as an entity"
Read our full review here.
Italian hardcore outfit Lastbreath release 'Vendetta' via Time To Kill Records.
"they take the attitude and writing style of NYHC and add a slightly more metallic edge"
Read our full review here.
Death metal forerunners Deicide release 'Crucifixion' on Cherry Red Records, a boxset looking back at their early years.
"the perfect reminder of why Benton and co are still one of my top three go-to DM bands."
Read our full review here.
Legendary rock vocalist Joe Lynn Turner releases 'Belly of the Beast' via Music Theories Recordings.
"There is a definite crunch to the album, but still plenty of the melodic style that we always associate with the man who has fronted Rainbow, Deep Purple and Yngwie Malmsteen."
Read our full review here.
Canadian thrashers Triskelyon release 'Downfall' via Moribund Records.
"the pace frenetic and the riffs wash down"
Read our full review here.
German nihilists Implore release 'The Burden of Existence' this week on Church Road Records.
"both aggressive and imaginative and shows that creativity can come in many forms."
Read our full review here.
Floridians Worm are back with EP 'Bluenothing' on 20 Buck Spin.
"early 90s black metal infused with towering slabs of death metal"
Read our full review here.
Morbific drop the venomous 'Squirm Beyond the Mortal Realm' today on Momento Mori.
"Morbific play old school death metal albeit with this perturbed vibe that really exemplifies the evil and malice extreme metal vied for in its early days."
Read our full review here.
And thats just the tip of the iceberg! Other releases today we think you should check out include...
Rock / Hard Rock / Classic Rock
Asylums - Signs of Life (Cool Thing Records)
Brant Bjork - Bougainvillea Suite (Heavy Psych Sounds)
Brian! - The Cataclysmic Engine (Nefarious Industries)
Bring The Hoax - Bring The Hoax (Lovely Records)
Burn The Sun - Le Roi Soleil (Sliptrick Records)
Killer Hearts - Doctor, Doctor/Demolition Love [SINGLE] (Screaming Crow Records)
Shape of Water - Amor Fati (Eclipse Records)
Silver Phantom - Crimson Cabaret (UPRISING! Records)
The Injester - A Spectacle to Behold (Self-released)
The Sade - Nocturna (Go Down Records)
Heavy Metal
Anima Morte - Serpents In the Fields of Sleep (Cadabra Records)
Cult of the Fox - Blood Omens (Obelisk Polaris Productions)
Fear Factory - Recoded (Nuclear Blast)
Fire From The Gods - Soul Revolution (Better Noise Music)
Metallian - Beyond The Wall (Temple of Mystery)
Obsidious - Iconic (Season of Mist)
The Gloom In The Corner - Trinity (Sharptone Records)
Therion - Leviathan II (Nuclear Blast)
Death Metal / Grindcore
Bavaustrian Metalbrothers United - Fall Into Oblivion (RTM Productions)
Bones - Vomit (Disorder Recordings)
Clamoris - Opus Limbonica (Inverse Records)
CultØ - Of The Sun (Time To Kill Records)
Defleshed - Grind Over Matter (Metal Blade Records)
Devenial Verdict - Ash Blind (Transcending Obscurity Records)
Fall of Seraphs - From Dust to Creation (memento Mori)
Faustian - Faustian [EP] (Black Lion Records)
Ground - Habitual Self-Abuse (Hibernation)
Knekelput - Teloorgang (Self-released)
Lightlorn - These Nameless Worlds (self-released)
Morbific - Squirm Beyond the Mortal Realm (Memento Mori)
Morbikon - Ov Mournful Twilight (Tankcrimes)
Noctem - Credo Certe Ne Cras (MNRK Heavy)
Nostromo - Bucephale (Hummus Records)
Psionic Madness - Rotting Dominion (Self-released)
Slaughter the Giant - Depravity (Hammerheart Records)
Thotcrime - D1G1T4L_DR1FT (Prosthetic Records)
Black Metal
Ateiggar - Tyrannemord (Eisenwald)
Darkthrone - Astral Fortress (Peaceville)
Dimmu Borgir - Puritanical Euphoric Misanthropia [REMIX/REMASTER] (Nuclear Blast)
Nocturnis - Unsegen (MDD Records)
Theotoxin - Fragment : Totenruhe (AOP Records)
Timor Et Tremor - Realm of Ashes (Trollzorn)
Vakaren - Infernum (Self-released)
Vananidr - Beneath The Mold (Black Lion Records)
Stoner Rock / Doom / Sludge / Psych
Buzzhead/Pale Horseman - Split (Self-released)
Devil's Witches - In All Her Forms (Majestic Mountain Records)
Forlesen - Black Terrain (I, Voidhanger)
Godzilla In The Kitchen - Exodus (Argonauta Records)
Hoaxed - Two Shadows (Relapse Records)
Mothman and The Thunderbirds / World Eaters - Mothman and The Thunderbirds vs World Eaters [SPLIT EP] (self-released)
Near Dusk - Through The Cosmic Fog (Iron Head Records)
Sfeerverzieker - Death Is The Desired Ending (Self-released)
Thammuz - Sons of the Occult (Argonauta Records)
Throwing Bricks - The Burden (Tartarus Records)
Progressive Rock / Metal
Antipop - Rex Mundi (Moribund Records) Prog Metal
Ascends - Lost in Gravity (Self-released) Prog Metal
Devin Townsend - Lightwork (Inside Out Music) Prog Metal
Enma - Apathy Awakened (Electric Spark Records) Prog Metal
Gotho - Mindbowling (Controcanti Produzioni) Prog Metal
Ironstone - The Place I Cannot Find [EP] (Self-released) Prog Metal
MindAheaD - 6119 - Part I (Rockshots Records) Prog Metal
Polyphia - Remember That You Will Die (Rise Records) Prog Metal
Thrash Metal
Dead Cross - II (Ipecac Recordings)
Exessus - Asynapse (Self-released)
Project Pain - Faster Disaster (FA Records)
Sodom - 40 Years At War – The Greatest Hell Of Sodom (Steamhammer / SPV)
Vio-Lence - Eternal Nightmare [REISSUE] (Metal Blade Records)
And the rest...
Blacklist - Afterworld (Profound Lore Records) [Post-Punk]
Cockney Rejects - Power Grab (Cadiz Music) [Punk]
Despised Icon - Deterre (Nuclear Blast) [Deathcore]
Eyes of Tomorow / Perfect Sky - Songs of Faith and Demolition [SPLIT] (WTF Records) [Hardcore]
Fit For a King - The Hell We Create (Solid State) [Metalcore]
Flying Disk - In The Heart of The City [EP] (Forbidden Place Records) [Noise/Rock]
Harmonic Cross - The Grand Paradise [Original Motion Picture Soundtrack] (Dark Operative) [Dark/Ambient]
Hostage - Memento Mori (self-released) [Metalcore]
Psychonaut - Violate Consensus Reality (Pelagic Records) [Post-Metal]
Ronny Munroe - Munroes Thunder (ERFD Records) [Power Metal]
Skogarmaor - The Crooms Saga's (Self-released) [Folk Metal]
Sxokondo - Altered Ego (Division Records) [Hardcore]
The End A.D. - It's All In Your Head [DELUXE VERSION] (WormholeDeath Records) [Hardcore]
Various Artists - Bound for Hell: On The Sunset Strip [BOXSET] (Numero Group) [Glam Metal]
Vévaki - Fórnspeki (Season of Mist) [Neo-folk]