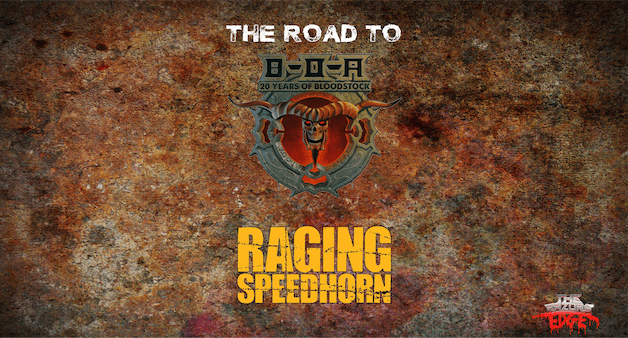 Interview: The Road To BOA - Raging Speedhorn
Interviewed by Tim Finch
In the lead up to Raging Speedhorn's potentially explosive performance at this years Bloodstock Festiva, we sit down with Dan Cook to chat about Speedhorn's plans!
The Razor's Edge: Dan! Welcome to The Razor's Edge and our Road to Bloodstock coverage!
Dan: It's cool, thanks.
The Razor's Edge: The last time I saw you guys was the end of January last year on your UK tour, just before the shit hit the fan. That seems like an eternity ago now. How have you guys been these last 18 months?
Dan: Going crazy really! All of us like playing, so it's been tough. We've had tours, gigs, loads of stuff, festivals booked. But they canceled, postponed, moved about ten times. You never know where you are, you know. So it's been a difficult a difficult year and especially when you want to play.
The Razor's Edge: Obviously you released your new album 'Hard To Kill' during the pandemic, one of my top albums of 2020. There's been no real live shows since then, but what's your perception of how the album has been received by the fans?
Dan: Well, it looks like it's gone down really well. For me, coming from the outside the band, you know, the first album blew me away. But it's nice that people have received this album as good as the bands first album, if not better. It's had a great response, absolutely amazing. We're all pretty blown away with it. I think especially with Frank and Gordon being the originals, it's kind of given them a bit of happiness that they can still do it after all this time.
The Razor's Edge: You've been on fire with your merch game during the pandemic too!
Dan: Yeah, that's Gordon! He just goes for it. He loves all the merge stuff. So we leave into it. He does a good job.
The Razor's Edge: I think I've bought more Speedhorn shirts than any other band the last 18 months!
You headed back to the studio last week with Russ Russell? What are you boys up to there?
Dan: Well, I didn't know if I could say anything, but I've been given the go ahead. We've been writing all year actually and with the album coming out during the pandemic, we wanted to put something else out pretty quick and because we had nothing else to do. But we've been doing something a little bit special, we got asked to be a part of the David Bowie cover album. So basically, in the next year, it's coming up to 50 years since 'The Rise and Fall of Ziggy Stardust and the Spiders from Mars'. So we got asked by Pale Wizard Records if we want to do a cover of one of the Bowie songs, and I know what the guys are like for a cover.
So we went into the studio with no rehearsal, nothing. We've laid down 'Suffragette City'. Then that'll go on the album with a load of other bands. All playing a different song from the album, and it will be released in June next year. So we're just getting ahead of the game, I guess. But it was good fun. Really good fun!
The Razor's Edge: What does a Speedhorn cover of a Bowie classic sound like?
Dan: Not what you'd expect from Speedhorn really, it's quite different. We all just went with it on the day, we used a lot of different instruments not just guitars and bass. So yeah, we're looking forward to people hearing it!
The Razor's Edge: I'm looking forward to hearing that now!
Dan: Yeah, it's gonna be a banger. We're well impressed with it. 
The Razor's Edge: You're heading to Cornwall this weekend to support Orange Goblin, is that the only pre-Bloodstock show you've got lined up?
Dan: The night before actually we're in Bournemouth, The Anvil. We did have a couple more before but they obviously got postponed again or canceled thanks to the deadline on lockdown being lifted moving. We've got Bournemouth at The Anvil the night before which is our own show and then the night after we're in Cornwall with with a Goblin boys. ]
The Razor's Edge: So talking about Bloodstock, it's not often a band plays two editions of the Bloodstock in a row. Are you glad to be heading back so quickly?
Dan: Do you know we didn't think we'd get on because it would be two in a row! And when they asked us again to do it  we're really happy because we want to play stuff off 'Hard To Kill' obviously. We love Bloodstock, the Sophie Lancaster stage, it's one of our favourite stages and we just love it all. Love the reception. Love everything. It's a great atmosphere. So it'll be nice to get out there in our first festival for a while and play the new stuff. We loved it last time it went crazy. It did it!
The Razor's Edge: What can we expect from the Speedhorn set this year?
Dan: We're looking at doing something a little bit special. We might be just doing mainly the singles, I think we'll do a set of the singles, if all goes well and just just got a real big party because everybody's just wanting to get back. So play the favourites plus the singles off the new album and we're maybe gonna stick a few other little bits in there. So it's an exclusive for your guest because we haven't let this out yet.
The Razor's Edge: Any Bowie covers coming out at Bloodstock?
Dan: If we can fit in I'm sure we'd love to do it. Honestly, it's a party song and a half, we've made it a right party tune. The lights were dimming in the studio when we're recording it. Russ Russell did a great job and I'm sure Bowie was there watching. 
The Razor's Edge: You are one of the most energetic frontmen in the business, what do you do to fire yourselves up before a big gig like this?
Dan: Absolutely nothing. [laughs]
I'm the most un-warmed-up guy. I've never done vocals or anything before I go on. I think it's just it's just pure adrenaline. I'm quite chilled really but I don't know, just the pure adrenaline getting onstage and obviously joining the Speedhorn guys it's just great because it's always that type of music that gets you up and going. That's just what happens to me. Often I can't remember a lot of it just pure pure adrenaline, pure energy.
The Razor's Edge: And ended up somewhere in the crowd?
Dan: Yeah. if I'm allowed this year, I might have to put my mask on before I do!
The Razor's Edge: Post Bloodstock, I think you're on just about every festival or tour possible… Damnation, Badgerfest, Uprising and then tours with Pitchshifter, The Wildhearts. Your booking agent is keeping you busy!
Dan: It's been going well, I think it's the new album 'Hard to Kill', it just got received that well. Like to say we've had loads more if things aren't being canceled and postponed. But next year is looking busy as well. We decided not to do our own tour this year. Just because every man and his dog's touring. So we're just doing the special one in London. on the 10th of December. So we're looking forward to that, just do a real big one. Have a good time.
The Razor's Edge: Avoiding any set backs I think I'll have seen you guys five or six times before the year is out.
Dan: We owe you a few beers then!
The Razor's Edge: So for the rest of the year, apart for touring pretty much non stop. What are the bands plans?
Dan: Well, we're still writing. We've been writing quite a bit actually, the last couple of months. The new songs are sounding banging! We're just eager to go, we're up to 11 and we got no way to exhaust it. We've been writing loads of stuff. Hopefully we'll be going back into the studio in October. Lay down the new album, when it will be released I don't know. But we're going back in we Russ Russell. He's like the seventh member now. He just worked so well. So we'll go back in with him. See what we come up with.
The Razor's Edge: So by the time you next have a headline tour of the UK, you'll have had two albums out!
Dan: Like I said, we're desperate. We love this new stuff like personally as well. So it's just a case of getting out there to play 'Hard to Kill'' because we love to do it. But we'll play plenty and we can see what people love. Last year and stuff, so yeah, we'll get we'll get them banging out for the funds that we love.
The Razor's Edge: Dan, it's been a pleasure to talk to you today!
Dan: Cheers!