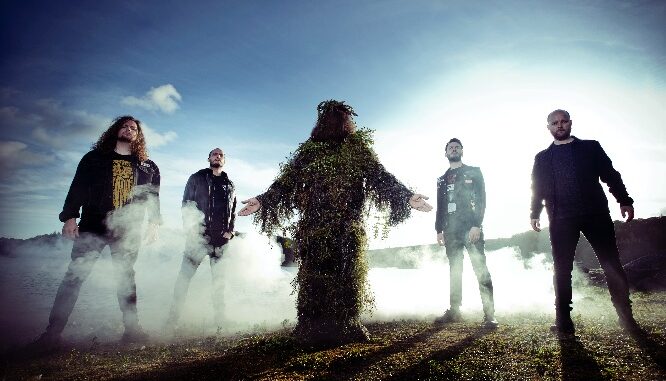 Live Review: Green Lung – The Exchange, Bristol
5th September 2021
Supt. Neuromatic
Review and live photos by Paul Hutchings
Rescheduled from about a million years ago, it was unsurprising that this gig was sold out on the morning of the gig. In fact, the only surprise was that it hadn't sold out before then. Such is the pull of Green Lung, the occult themed rock outfit who had wowed many at Bloodstock on the Sophie Stage a mere three weeks previously. The band had followed that triumph with a short UK jaunt, which culminated in this stop at one of Bristol's most intimate venues.
You can tell you are in for a good night when the support band contain a guitarist who played in a band called the Acid Squirrels in the 1970s. Rich Thornton may be the most mature member of local outfit Neuromatic but his guitar playing was sublime and worth the entrance money alone. 40 minutes of spellbinding weirdness, with heavy keyboards and an underlying groove that mixed the sounds of Hawkwind, Kate Bush, The Stooges and Blondie in a psychedelic smorgasbord of swirling aural delight. Tracks from their 2019 debut '55' including the title track and the extended Eastern bewitching 'Catatonia'. "You should be thankful" laughed enchanting vocalist Kate Norris, "we've cut that down from 16 minutes!" Wrapped around the established songs were a handful of new songs, including 'Drug Squad', originally written by Rich in the 1970s, the sonic workout of 'Perception Illusion' and the brilliantly titled 'Lying in Bed with Cats' which drew much applause from the feline lovers in the room. Closing with The Open Mind's 'Magic Potion', Neuromatic, who were completed by bassist Hal Crafter, keyboardist George Turner and drummer Kris Bressington certainly earnt new friends and a mental note to catch again next time.
The momentum that Green Lung have been building since their debut EP 'Free The Witch' has been nothing short of juggernaut proportions. Cruelly shunted into the layby by Covid, the London outfit are making up for lost time and demonstrated that not only can their style of occult doom instil a magik trance like state but live, they are as ferocious and visceral as the most aggressive thrash metal outfits.
It's when you get up close, hot and sweaty that you see a band's true colours and Green Lung ensured that everyone who was there left in a bath of joyful sweat. Arms were aloft, voices raised to the sky as the likes of 'Lady Lucifer', 'Templar Dawn' and 'The Ritual Tree' were blasted out full force. New songs 'Graveyard Sun', 'Leaders of the Blind' and 'Reaper's Scythe' were greeted like old friends, singer Tom Templar easily able to whip the music starved crowd into a frenzy.
By the time we'd reached the climax of the evening, with the duo of 'Woodland Rites' and 'Let the Devil In', complete with a maniacal raising of clawed hands, there was no doubt that this would be the last time green Lung would play this venue. They are destined for bigger and greater things. 'Black Harvest' is due out in late October and should escalate the band to even greater heights. If that doesn't happen, I'll happily eat my blackened hat.
Live photo credits: Paul Hutchings