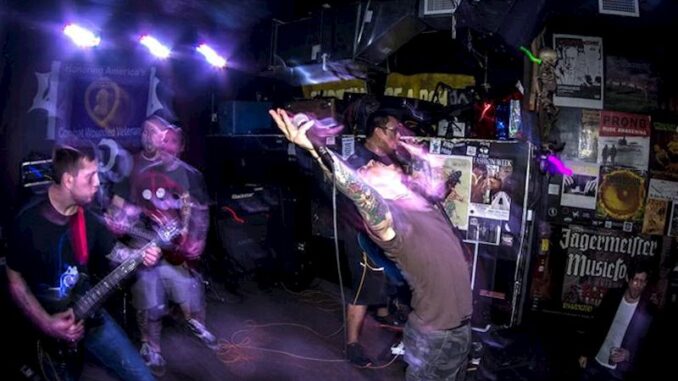 Album Review: Silence Equals Death - I'll See You On The Other Side
Reviewed by Dan Barnes
Hailing from the Garden State of New Jersey, Silence Equals Death's new release is about as far from Bon Jovi as the band could get. Comprised of the six tracks from last year's Revolution Rising EP and six new songs, I'll See You on the Other Side intertwines the two records, contrasting the developing styles of the band.
Although only release a mere ten months prior, the songs from Revolution Rising, generally speaking, have a more of a distinct hardcore feel about them. Both Switch and Traitor are out of the blocks with some serious heavy baggage, filled with belligerent ire and hefty beatdowns. Revolution Rising and No More Ashes are both forcefully driven by bassist Shawn Urscheler as the deliberately punchy guitars stab and slash.
The way this record is ordered is to plot Silence Equals Death's variability as song writers and performers. Although the earlier EP feels more direct than the newer tracks, there are still plenty of hardcore beatdowns not previously heard. Sometimes Dead is Better might have a fatter sound and a sharper guitar tone but it is undeniably a chugging machine at its heart, not matter how accessibly is it framed or how organically the breakdown develops.
Similarly, the older tracks are not one-dimensional two-stepping gang-vocal vehicles either. Pass the Torch is a full-bloodied metallic-hardcore track, with a foot in both camps and a feeling of the epic about the guitars; and Plague has some virtuoso six-string slinging amid the overwhelmingly thrashing riff.
Peppered throughout is the unmistakable spirit of Metalcore, with elements obviously informing the likes of Signals and Ghost and dominating the Parkway-esque opening bars of Killing Floor.
Across the whole of the record there can be heard traces of punk and crossover, all packaged with a metallic hardcore exterior. Sometimes Silence Equals Death rely heavily on the hardcore and sometimes they lean toward the metal, but the aggregate sees them following a central path across the album as a whole.
I'll See You On The Other Side is a collection of a dozen songs that are unrelenting in their approach but with enough sophistication to entice you in, to sit you down and to initiate a discussion about the current political landscape. And as for being from Jersey, Silence Equals Death can trace their lineage to Mucky Pup, Nuclear Assault and Overkill before meeting Jon on the family tree.