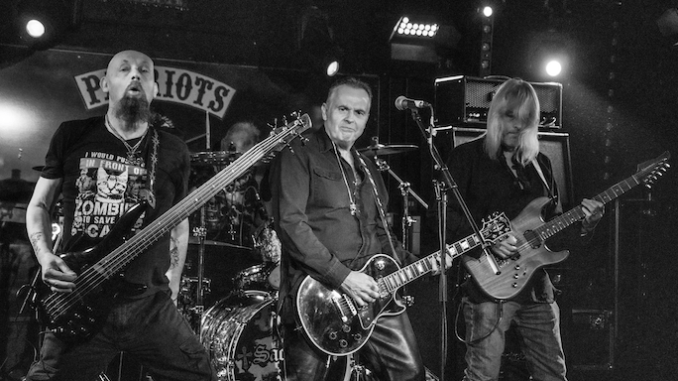 Live Review: Sacrilege - The Patriot, Crumlin
8th October 2021
Supt. Eulogy & Who Knows Didley?
Words & Photos: Paul Hutchings
Two days before Covid Vaccine passports were due to be introduced in Wales, NWOBHM veterans Sacrilege rolled into the Home of Rock in South Wales for a show that certainly wouldn't have required those controversial passes to be shown. Despite the positive signs that fans are flocking back to live music, it's still the curse of the original and relatively unknown band that even in a hotbed of hard rock and metal, gigs can still be fraught with savagely limited attendances. Whilst only a few miles away other venues were packing them in for 'tribute acts', three original bands, two well established local acts and one with a heritage dating back decades played for the proverbial one man and his dog.
To see Eulogy back on stage at all was a brilliant sight. Drummer Darran Cousins has been seriously unwell having caught Covid 19 many months ago. Seriously unwell. To see him sweating behind the kit and powering his way through the 40-minute set was the best reward one could want from the evening. For those who are unfamiliar with the band, now expanded to a four-piece with the arrival of rhythm guitarist Brian Perkins, Eulogy play a brand of solid hard rock that is filled with melody and soul.
Showcasing several new tracks written in lockdown including 'Breath' and set closer 'Save Your Soul' alongside more established tracks, and songs from their 2020 EP 'Memento Mori', Eulogy soon shifted into top gear. The band are still oiling those gears but their set was tight and professional. With frontman and bassist Neil Thomas slightly hamstrung in the vocal department due to a slight cold, the band opted to play a quick fire set with Thomas dropping a couple of octaves to accommodate his ailments. It didn't harm their sound. Eulogy are back on stage playing their music and like all the bands on the bill, deserving of a bigger audience.
They say you should play your gigs according to your audience. Someone should tell that to Who Knows Didley? The quartet play each show as if they own it and once more the band showed their confidence with a swagger to their performance. I hadn't seen the band for a while but there is no doubt that they have developed since my first viewing many years ago. Slick without being too polished, WKD raced through a cracking set which like Eulogy, was an opportunity to test out some new material. Its what bands do. WKD utilise the backing vocals to the max, with guitarist Gareth Allford and bassist Glyn Mason adding harmonies to hyperactive front man Paul Matthews.
Matthews can work a room, regardless of numbers, and his dedication of 'Fairy Tales' to the MC veterans raised a beer from a couple of the MC members taking a drink at the end of the bar. Hell, Matthews even managed a singalong, amazing in a room occupied by fewer people than my downstairs loo can accommodate. Musically, the band bring a hard rock edged style, drawing influences from the 80s and 90s but adding their own edge and style. They are definitely worth a watch, and it was great to see them again and in fine form.
Headliners Sacrilege's roots go deep, way back to the tail end of the NWOBHM movement in the early 1980s. The band has had a resurgence in recent years with their 2019 album 'The Court of the Insane' a decent listen. Led by founder member Bill Beadle, lead vocals and rhythm guitar, the band have changed line-up several times over the years but appear to have established a cohesive unit. Their 70-minute set was bursting with a mix of older classic tracks mixed with newer songs from 'The Court of the Insane'.
Solid and well-constructed is surely the motto of the band, for their music is pleasingly heavy with a retro edge that doesn't dwell in the past. There is room in metal for all styles and Sacrilege's devotion to the classic metal riff is commendable. At several points during their set, I found myself engrossed in their huge riffage. A testament not only to the band's sound but the quality of the sound system at The Patriot.
The latest material fits nicely into the band's set, with 'Bring out Your Dead', 'No Bequeath' and the aptly title 'Ride Free' sitting neatly alongside older songs 'Ashes to Ashes', 'Welcome to the Dragon's Den' and 'Lucifer's Soldiers'. Alongside Beadle, guitarist Paul McNamara (ex-Salem) showed his chops whilst bassist Jeff Rowland entertained those that remained by going for an extended wander during the last song, the free-flowing 'Rock N' Roll with the Devil'. Entertaining, well drilled and on point throughout, it was a pleasure to catch this band. It's a shame so many decided not to.
Photo Credits: Paul Hutchings