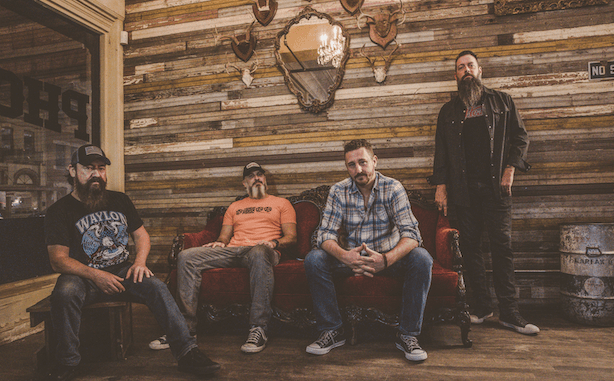 Album Review: High Desert Queen - Secrets of the Black Moon
Reviewed by Matthew Williams
I remember visiting Austin, Texas in the summer of 1999, and thinking that the city had a cool, laid-back vibe to it, lots of bars, great friendly people, and a vibrant music scene. So, when the debut album from Austin based band High Desert Queen, landed in my inbox, I was keen to discover what it had to offer.
Now I must confess one quick thing, Ripple Music, is rapidly becoming my favourite record label, with such amazing bands such as Bone Church, Roadsaw and Thunderhorse, to go alongside the jaw droppingly amazing, Crystal Spiders, so my expectations were set fairly high.
High Desert Queen was formed when singer Ryan Garney and guitarist Rusty Miller, went searching for a rhythm section, who had an equally eclectic range of musical influences as themselves, to help complete some songs they had written. When they found bassist Matt Metzger and drummer Phil Hook, they relocated from Houston, and quickly established themselves in the Austin music scene with some high octane shows and ball busting grooves.
Their eight track debut album, 'Secrets of the Black Moon' isn't going to fit neatly into any set genre, as the band draws from such a wide array of influences, and opening track 'Heads will Roll' begins the musical onslaught, with an opening riff that gets you in the heart; slow and doom laden, before Garney's vocals kick in. The groove is what grabs your attention straight away throughout the song, with Phil Hook, tub thumping along gracefully, letting Miller do his thing.
'The Mountain vs The Quake' is up next and this is where the band really come to life. It's got everything that you require from a song; heavy riffs, a rattling bassline, pounding drums and a catchy verse to sing along to. Even typing this, as I'm listening to it, I can't stop my head from bopping along. I can imagine this song blasting out of the radio as I drive a big rig down I35 with a Whataburger in hand, throwing the horns as passers by.
'We Roam' begins like it's a song from a Twin Peaks era programme, led by Hooks metronomic drumming, then the fuzzy, warm guitars from Miller really kick in and it's a cracking riff that he delivers here. It feels like a hedonistic mix of doom, grunge and stoner, all put into a melting pot, and this is the finished result. It's not hard to see why these having been getting rave reviews for their live shows, as their groovy desert rock rumblings all blend well together.
'Did She' is another head shaker, but feels a bit different, a mixture of tempos, voice changes and riffs a plenty, with the solos making you feel all warm inside before the hypnotic strains of 'The Rise' takes you on a short galactic journey into outer space, with 'Skyscraper' bringing you straight back down to earth, with a more stripped back song, riffs a plenty, but feels like an outer body experience is taking over. It has lots happening here, with all band members showcasing their talents, fading in and out, to collectively make one hell of a song, and easily the standout track for me.
The final two songs, 'The Wheel' and 'Bury the Queen' simply follow the same successful formula that the band has demonstrated throughout the album. Plentiful riffs, great vocals, all driven by a perfectly timed rhythm section, the 4 piece have been able to write powerful, riff laden songs inspired by personal growth, nature, and the never ending search for total and complete peace of mind.