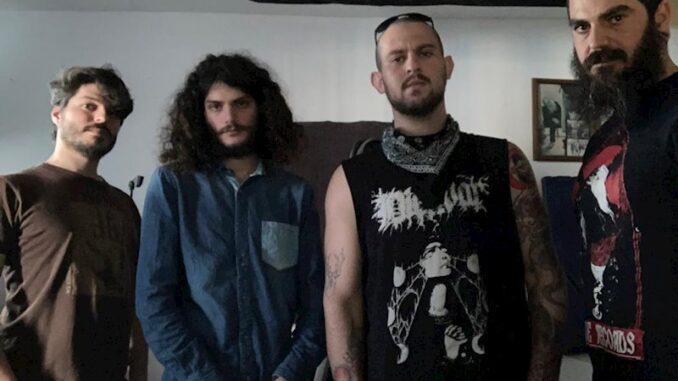 E.P. Review: Nür - Negative Transfer
Reviewed by Robbie Maguire
Swathes of pulsing caustic riffs slice through the contrasting slower more measured guitar which graces the background of 'Ein Junes' the opening track of 'Negative Transfer' E.P. from Haifa based post metal band Nur. The immediate commanding chords at the fore may provide the instant aural gratification yet it is the spiralling, whirling subtleties of the guitars playing out beneath that really earworm their way so impacting into your very being. The deep droning rumbling bass is so very key to the unnerving, edgy feel effortlessly being created but yet so very understated in its presence.
The sustained heavy build up with a vicious scathing riff ushers in 'The Snake'. With a tenacious heartbeat and dripping in reverb and feedback the pulsing strains of this track flexes its doomy muscles and writhes its way in forcibly. Swirling and soaring as much as it is vicious in its sludgy grittiness it is again the darker background passages that elevate the track further and in doing so also the weight of the emotional feeling. Dizzying heights of euphoric gratification not usually afforded to such powerful gritty music are scaled effortlessly by Nur resulting with you being pulled into the hypnotic and ultimately revitalising charms.
The dark doomy post metal brilliance emanating from 'Klala' closes out 'Negative Transfer'. The mid paced momentum gathered is thunderous proving such dizzying heights of heaviness both emotionally and physically need not speed, bluster and fake aggression to be achieved. Masterful in their delivery of their progressive vision Nur create evocatively a bleakness to their musical landscape. With intensely harsh guttural vocals, holding such gravitas adeptly shifting in style and feel, gracing these songs there comes a real sense of chaotic darkness. Experiences from daily life and the bands own very being has been the impetus behind these songs and its clear that for Nur as for many people tough, dark times have been lived through. That fact they have harnessed these feelings and put them into such stirring, compelling and ultimately powerful set of songs is testament to Nur as a united collective.
When music possesses the capacity to harness such visceral power and create such stirring emotion it is indeed a wonderful gift to share. In 'Negative Transfer' Nur have found a way to share their expansive, progressive and let's be honest intensely brutish music over a brief visit. However short that stay though the impact created from this memorable music has a profound effect and ultimately leaves a strong lasting impression.