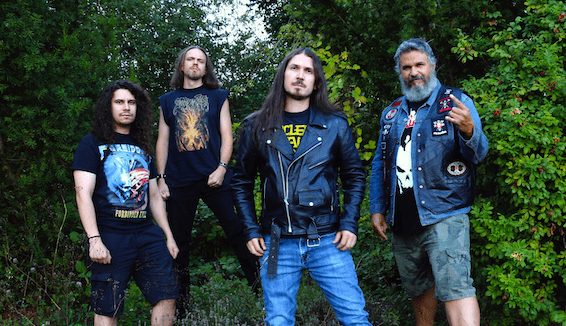 E.P. Review: Aggression - Field of Nightmares
Reviewed by Gareth Pugh
Aggression are a band that have been around in one form or another since 1984, albeit with first a seventeen year and then an eight year hiatus, but even taking that into consideration that is some serious thrash heritage. Over that thirty five year plus existence, the band has had a merry-go-round of members but one almost constant has been guitarist Denis "Sasquatch" Barthe, now also handling the vocal duties.
Even though they have been around since the 80s they only have a few demos, four full length releases and a few compilations (featuring a mixture of demos, promos, live and new tracks) to their name. 'Field of Nightmares' marks their first release since 2018's 'Feels like Punk, Sounds like Thrash' album, and the first with "Sasquatch" on vocals.
'Field of Nightmares' doesn't try and reinvent the wheel, what we have here is good old meat 'n potatoes thrash, so expect plenty of tight semi-technical riffing, pounding drums and gruff yet legible vocals, in fact the vocals are as good as the band have ever had and it makes you wonder why "Sasquatch" didn't just do the vocals himself years ago, sounding a bit like Bruce Corbitt (RIP) from Rigor Mortis. Production wise this is a pretty raw affair, but I have no issue with that, there's a good clarity and depth to the drums, a crunch to the guitar and a solid thud on the bass, and anyway thrash needs to be unrefined and aggressive.
Song wise there are 4 proper songs plus a short into and outro. Using Halloween as a theme, the four tracks subject matter is horror with tongue very much in cheek. 'Poisonous Potion' is a suitably fast and catchy thrasher, as is final song proper 'Dripping Flesh', both with some nice crunchy slower sections between the bouts of speed. 'Dripping Flesh' in particular is a speedsters delight. 'Satanic Angel, Holy Devil' is going to be lots of fun live, with a chorus designed for a call and chant refrain, whilst 'Possessed by Dawn' is the most complex with more technical sections and parts than the other tracks, with a particularly effective and creepy slow section.
This is a cool E.P. to check out if you want thirty or so minutes of fun and don't want to engage your brain too much. The band sound like they are having fun and don't take themselves too seriously and at the end of the day that's what music is all about.