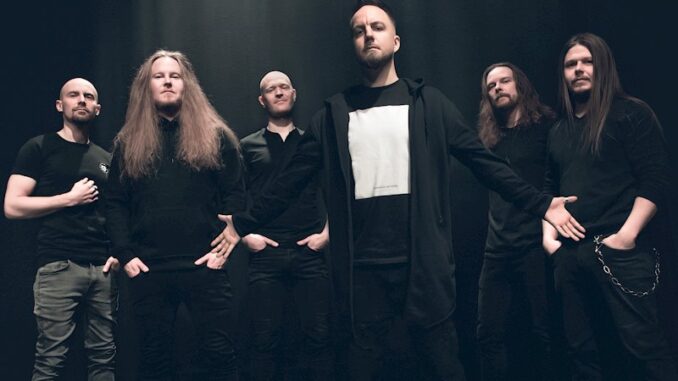 Album Review: Bloodred Hourglass - Your Highness
Reviewed by Daniel Phipps
Finland will always be a breeding ground for metal. From internationally recognised giants such as Nightwish and Children of Bodom right through to cult legends like Beherit and Demilich the Scandinavian country can provide you with metal of all styles, (travel tip if you ever visit Helinski it has music hunter one of the greatest record shops in the world). A long-standing member of the Finnish scene are Bloodred Hourglass, formed during 2005 in the town of Mikkeli, they are ready to release their 5th full length record titled Your Highness.
Your Highness is built up using a variety of different elements all very recognisable and typical of bands from Scandinavia. Bloodred Hourglass combine thrashy chugging riffs, melodic passages, and high energy vocals throughout Your Highness. No one track is the same giving you a real diverse sound throughout, the albums opening track Leaves is a perfect example of Bloodred Hourglass crafting tracks with a high octane thrashy sound along with melody. Even throughout the albums up tempo energy there are moments where Bloodred Hourglass build tracks on a more melodic tone, Tell Me About Tomorrow Yesterday with its melodic verse structure which moves into its huge anthemic choruses show the band are not against giving you something completely different. Tracks like Change of Heart just give you a dose of full throttle melodic death metal, the track is full of upbeat fast paced energy to follow on from its more melodic counterparts.
Bloodred Hourglass manage to capture a very thick and full sound on Your Majesty, the band bring a 3-guitar attack allowing them to combine chugging attacking rhythms side by side with melodic hooks. The drums powering through each track on the record and keeping the tempo on its heavier tracks constantly moving. The vocals of frontman Jarkko Koukonen storm through the band's heavier tracks and his clean vocals add a full anthemic feel to the powerful more melodic tracks.
Bloodred Hourglass will provide you with a well-crafted and well thought out record. It's not the most original sounding album but will give you great energy throughout. The mixture of thrashy hook filled guitars and solid melodies will keep you interested. If you are heavily into the sounds of acts like Arch Enemy and newer In Flames the band will certainly give you an enjoyable listening experience.