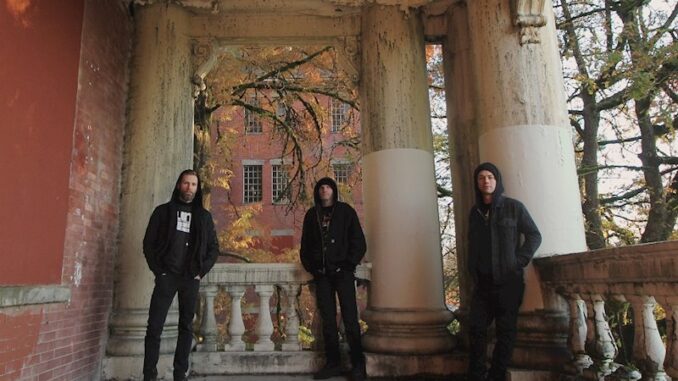 Album Review: Crystal Coffin - The Starway Eternal
Reviewed by Paul Hutchings
Set against the historical realities of the Chernobyl nuclear reactor meltdown in 1986, 'The Starway' Eternal is the sophomore release from the Vancouver trio Crystal Coffin and follows on from their 2020 debut 'The Transformation Room'.
Combining the intensity of Wolves in the Throne Room, Enslaved and the ferocity of High on Fire, 'The Starway Eternal' is explosive from the opening strains of 'Shapeshifter Huntsman' through to the more measured and gentler conclusion the band craft on 'Mega Tomb'. Incorporating synths, piano and balalaika into their complex weaves, there are many more layers to this record than many of similar ilk.
Whilst the story lives in a fantastic sci-fi realm, with portal ways discovered behind consoles and the like, the music is blisteringly heavy, underpinned with the melody of synths and piano. Adventurous, exciting, and original, the combination of guttural back metal, space and time provides a combination of cinematic soundscapes, rip-roaring blasts of ferocity and moments of tranquil calm. It all forms an album that demands repeated listens to indulge and dive deep.
Tracks such as 'Skeletons' utilise the layered synths, which add depth to the thunderous drumming that Rob Poirier brings. Instead of one singer, both Aron Shute (bass) and Lenkyn Ostapovich (guitars, synths, piano, balalaika) take turns in the vocals and their sparring delivery brings the raw, guttural style one would want. There is melody laced into 'The Red Forest', clean vocals provided a refreshing and energising lyrical finish, running on top of an atmospheric riff that cascades throughout the track. Balance and calm are the order of the day on 'Cremation: Between Fire and Ice', but underneath the song is the tragic ending to the story as the protagonist falls back to earth knowing her time will end, burning up in the atmosphere in futile desperation. This climaxes in the fluidly flowing 'The Descent', which captures the story in dramatic style.
Of course, there is always a requiem afterwards, and the album closer is 'Mega Tomb (Including Tomorrow's Ghost)', an eight-minute piece of high emotion, but one that fits the overall release well.
There is plenty to discover in this album; I've only scratched the surface so far. It's a record that grasps with invisible tendrils, drawing you in deeper on every play. Maybe it's time to submit and allow the inevitable.