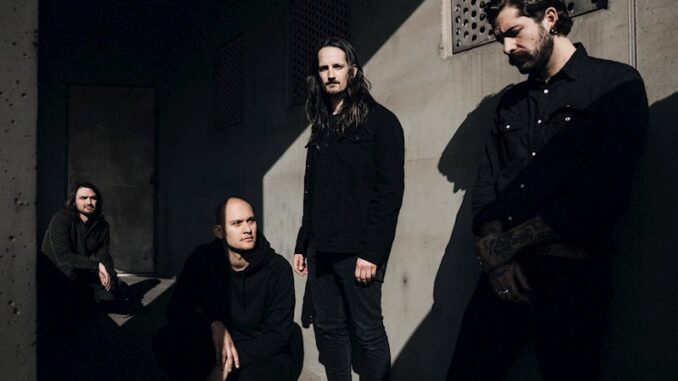 Album Review: Der Weg Einer Freiheit – Noktvrn
Reviewed by Richard Oliver
Experimentation and progression have been part of the fabric of Der Weg Einer Freiheit since the band's inception. Formed by vocalist, guitarist and band mastermind Nikita Kamprad after the dissolution of previous band Frostrite, Der Weg Einer Freiheit have been creating 'thinking man's' black metal since 2009 and are now releasing their fifth full length album Noktvrm which sees the band pushing themselves further into experimental and progressive territories whilst still managing to remain true to their core sound.
From the opening moments of Noktvrm you know this is going to be a bit of a different album with the acoustic opener Finisterre II slowly easing you in. The first main song Monument also keeps things slow and steady with gentle guitar strums and an atmospheric horn section easing you in before the familiar black elements come crashing in to devastating effect. Der Weg Einer Freiheit have an uncanny way of mixing the melodic, emotional and atmospheric together in furious fashion and their skills at doing so are as effective as ever. Am Rande Der Dunkelheit and Morgen are far more driven by furious black metal aesthetics whilst equally mixing in moments of anguish and turmoil along with the fury but it's the album's more experimental songs that stand out.
Immortal along with album closer Haven are both different steps for Der Weg Einer Freiheit in that they are both in English rather than German, have a use of clean vocals and also mix in elements from outside of black metal. Immortal contains pulsing synths and electronica with a more mid paced black metal sound whilst Haven is a haunting piece of post-rock and shoegaze which is the most experimental song on the album and the one likely to upset the black metal elitists the most. The longest and most atmospheric piece on the album is Gegen Das Licht which is full of multiple textures and sounds whilst being the darkest and most dread filled song on the album.
Noktvrm sees Der Weg Einer Freiheit expand their sound though for a band that has always thrived on taking black metal into alternative territories this album should come as no surprise for people who have listened to their previous works. This is another strong album from the band and whilst it doesn't topple their 2015 masterpiece Stellar it has a bloody good go. For those of you who like to hear progression in their black metal, Noktvrm is a highly recommended album.