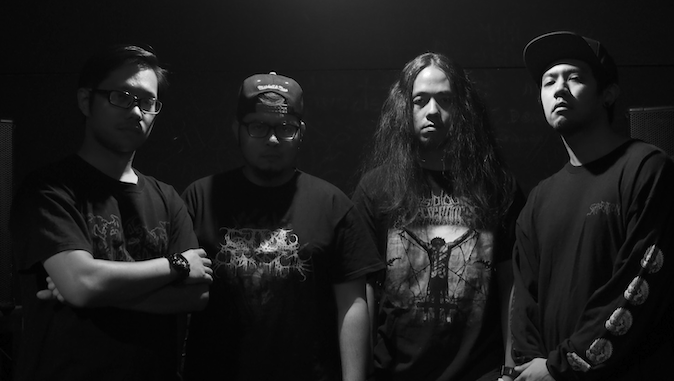 Album Review: Intricated - Apocalyptic Metamorphosis
Reviewed by Daniel Phipps
Now this reviewer is not a picky person when it comes to death metal records. I'll happily give a chance to any artist who comes under that banner irrelevant of style. Now sometimes I want something utterly putrid and downright vicious and that's where Intricated come in. Delivering their first material in 5 years, Intricated don't mess around with Apocalyptic Metamorphosis. Once its intro track finishes it opens with a primitive slab of pure ravenous brutality which sets the tone right away that this record is going to be stripped of all finesse and just ravage listeners right from the start. Apocalyptic Metamorphosis is the second full length record from the Taiwanese brutal death metal outfit. The 4 piece who are part of the Thailand collective Siamese Brutalism, Intricated come armed with a putrid display of force that you come to expect from a band associated with the Comatose Records name.
With Apocalyptic Metamorphosis Intricated deliver a collection of utterly ruthless tracks. The kick drums of Pratchaya Phadungthin cut through like a phnumatic drill straight to the brain throughout this release, with the band's other rhythm member bass player Wasumit Wongwai performance adding to the massive low end display which creates that devastating heavy sound. The riffs of Jeeraset Paemongkol bludgeon your ears with a mixture of pure savage brutality and sickening grooves. This is found all throughout the tracks featured on Apocalyptic Metamorphosis, whether it's a track like Enigmatic Portal Of Demise which combines those grooves with attacking brutal riffs or the sub 3 minute bludgeoning of Flagitious Meditation. All throughout the record the tracks go straight for the jugular, no lead in, no time to get set just track after track opening with sheer force, until the toned-down instrumental track Interdimensional Being... which precedes the albums final track.
The tone is set for Intricated, this album feels very honest, the band come across unconcerned with people whose requirement is a crisp and robotic production. Apocalyptic Metamorphosis knows what it's intended audience wants and delivers it without hesitation.