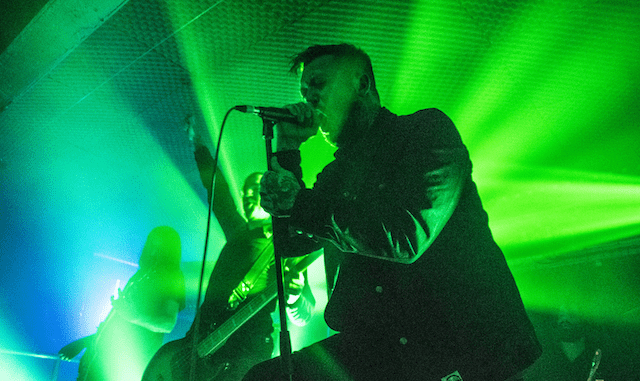 Live Review: Bossk - The Exchange, Bristol
13th December 2021
Support: Dvne
Words & Photos: Paul Hutchings
It may have been a damp, cold Monday evening but despite the gloom that currently hangs like a black cloud over the UK, this was an evening where no-one was going to let politics and the pandemic cloud their thoughts. The opportunity to see two of the best bands in the UK in a 250-capacity venue made this a hot ticket with the gig sold out weeks in advance.
The stock of both bands has been rising for some time, and both bands have released superb sophomore records in 2021 and added further value to their stock with rave reviews of their performances at Damnation Festival in Leeds mere weeks ago.
Weaving their spells for a full hour, Edinburgh quintet Dvne were in no mood to play second fiddle. Road hardened by autumn European dates and with an album of the year contender in 'Etemen Ænka' under their belts, the band quickly captured the attention of both eyes and ears of the packed room. Their music is at times like a rollercoaster, crushing slabs of sludgy stoner elements contrast with ethereal passages that soar and gently grasp.
I'd missed Dvne at Damnation (I'm blaming Boss Keloid's interview tardiness!) and within minutes it wasn't hard to see why they had a queue waiting for entry into the Eyesore Merch stage over 25 minutes after they had hit the stage. These guys (and lady, sorry Evelyn!) are going places. They are captivating to watch, and despite limited space on stage were able to rock out with drummer Dudley Tait stripped to the waist, his muscles glistening in his own sweat.
Dvne's set list comprised six tracks, all from 'Etemen Ænka'. Bookending the show with opener 'Towers' and closing song 'Satuya', the band were in outrageously fine form. Focus and control is the order of the day but there is plenty of passion and rage within the vocals of Victor Vicart and Dan Barter, who both also play mean guitar. Spinning around it was impossible not to smile at the nodding heads of both masked and unmasked. Dvne's intricate and complex progressive style draws an eclectic mix, and the band's superb performance was rewarded with a warm reception.
Bossk's performance at Damnation was something to savour, with their use of the main stage and lighting drawing gasps from the audience and crafting quite the spectacle. The Exchange isn't blessed by the best lighting and Bossk's inclination to perform in semi-darkness may have been a photographer's nightmare but it's also necessary for their dark, punishing slabs of sludgy metal.
Vocalist Sam Marsh doesn't spend huge amounts of time on stage, but when he does, he commands your attention with his bearlike roars and guttural vocals. There's limited interaction between band and audience, but a Bossk gig is more of a reverential, semi-spiritual experience and the devoted audience know their part. Nod heads, applaud at the end of songs and whoop when favourites begin. Otherwise, it's stand back and absorb the delicate interplay which is dispersed between head splittingly heavy tracks.
Drawing mainly from this year's fine 'Migration' and 2016's 'Audio Noir', this was a performance to savour. Closing with a song that is over nine and a half minutes long in 'Lira' was exceptional, and the only disappointment amongst the audience was that the house lights seemed to kick into life too soon. It's no wonder that both these bands have been added to the Arc Tangent line-up for 2022. Both are perfect for the event and if you can, you should be there to see why.
All photo credits: Paul Hutchings