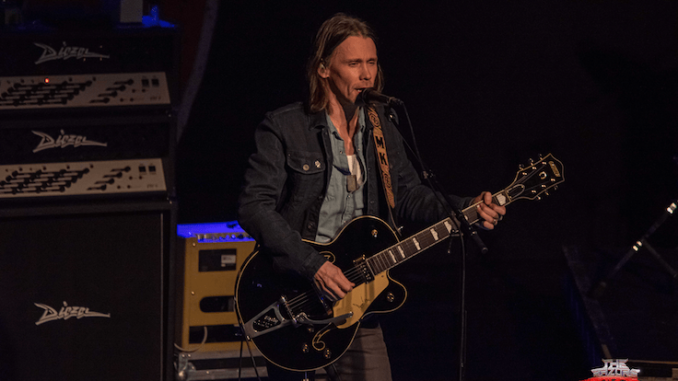 Live Review: Myles Kennedy - O2 Academy, Birmingham
13th December 2021
Support: Cardinal Black
Words & Photos: Tim Finch
It's the first big gig under Boris' new rules and the queue snakes for what seems like miles (no pun intended) tonight as covid passports are checked alongside the usual security searches and ticket scans. Despite that the mood amongst gig goers is up beat, one of the few overseas acts to tour the U.K. this year has not let the pandemic stop him. Myles Kennedy is in town to round out his Christmas U.K. jaunt in style.
There have been quite a few shows post-pandemic, but despite that this is the first where the majority of the crowd are wearing masks. A strange sight, yet by now it already feels "normal".
Onto the music and it is Cardinal Black who open proceedings, the only support tonight. The Welsh outfit only formed in 2020 and released their debut E.P. not so long ago, but despite their short career they ave a huge opportunity here opening for Myles. Their music is full of soul, full of passion and outright energy. Not the energy of a band jumping around a stage, instead all their power is channeled through the music, be it Tom Hollister's voice or the guitar and bass. There's something about this understated outfit that makes them stand out, it really is quite special. Their show, full of quality banter about Merthyr (which warms this writers Cardiff born heart), encapsulates their essence perfectly where the band let their music do the talking, and it does that so well!
Myles Kennedy shot to fame as part of Alter Bridge in the early 2000's having previously set solid foundations with his work in The Mayfield Four. Alongside Slash he has become a household name, and despite all those other projects he still finds time to work on his own solo project under which he released 'The Ides of March' earlier this year.
Kennedy is one of the (very) few American artists who have braved a trip to the UK post-pandemic to tour in 2021, and it's a gesture much appreciated by the fans. Live music is has been missed these past two years and artists going the extra mile to put on shows for the fans really resonates as we attempt to return to some semblance of normality.
'Wake Me When It's Over and 'A Thousand Words' kick off the performance, the sound in the venue a little rusty but the engineers soon tune the acoustics in. Kennedy's vocal prowess is second to none, his distinctive powerful tones reverberate around the venue as the set continues. Multiple guitar changes allow Myles creativity to be on show, the subtle change of instrument enabling Kennedy to change direction in sound and feel, keeping the audience enthralled and encapsulated in his performance.
This date on the tour saw the start of Myles vocal troubles, a suspected sinus infection niggling at the singer, which really reared its head in Bournemouth the following evening. In Birmingham Myles battled through admirably and for the majority of the set, including the likes 'Haunted By Design', 'Year of the Tiger' and Alter Bridge classic's 'All Ends Well' and 'Watch Over You', you wouldn't have guess he was struggling. He is every bit the showman, letting his voice do the talking - so to speak.
A cover of Iron Maiden's 'The Trooper' and intriguing yet genius addition to the set welcomed by everyone in attendance. But as he started to struggle he tells the crowd "fuck it lets jam" and entitles the impromptu number "Birmingham" as he and his backing band show there's more to Myles than just his powerful voice!
As he starts the encore with 'Love Can Only Heal' it's obvious he is now struggling and sadly he ends up cutting the song and the encore short. To Myles credit he need not apologise, he put on a stunning show, showed us all just how talented his is and we all wish him well in clearing up his sinus issues to return again soon.
Myles Kennedy's talent knows no bounds and his solo live performance in Birmingham tonight proved just that.