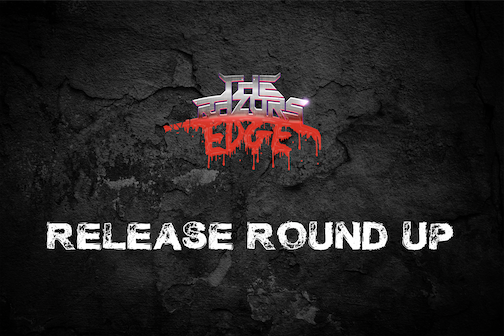 Release Round Up - Christmas Special
It's Christmas! But there is still new music hitting the air waves. This week we round up all the new music getting released over the Christmas period through to New Years Eve!
Merry Christmas all!
On Christmas day Symbolical will release new E.P. 'Igne'.
"The echoing lead guitar carving out delicious melodies that slice through the hammering rhythms that are powered out."
Read our full review here.
New Years Eve will see Barús release two track atmospheric death metal E.P. 'Fanges' on Aesthetic Death.
"It provides the listener with a display of uncompromising dark death metal."
Read our review here.
New Years Eve see's stoner/doom merchants Dust Prophet release new single 'Hourglass'.
"Combines heavy riffs with thick keyboards, intricate guitar and a rock-solid rhythm section in one huge fuzzed up song."
Read our full review here.
For a brutal slab of death metal this New Year's eve look no further than Wombbath's 'Agma'.
"The breadths and heights this album reaches for, and then grasps competently, is absolutely amazing."
Read our review here.
Rockers Born Without Bones release a covers EP to bring in the New Year. 'NYE' is released via Pure Noise Records on December 28th and includes a cover of The Zombie's "This Will Be Our Year' and Death Cab For Cutie's 'The New Year'.
'Black Magic Satellite' is the second full-length album from the Norwegian heavy metal band Warzaw. The follow-up to their highly acclaimed debut 'Werewolves on Wheels' pushes the envelope in brand new directions, but there is still no doubt that this is 100% pure heavy metal music. This 11 track record includes fast headbanging ragers, mid-tempo headbangers and slowed-down heavy anthems.
Triggering Trauma dive deep into the pit and address issues of abuse and how to overcome the demons that plague our minds. So that you too may find a sense of tranquility on new E.P. ' Voice Of The Voiceless'. Released December 25th.
Toronto's Primalfrost, the one-man melodic death shredding unit created by Canadian guitarist Dean Paul Arnold (touring guitarist Belphegor, Operus, ex-Vital Remains) returns for the release of the first full-length in seven years. Entitled "Lost Elegies", this third album follows 2014's "Prosperous Visions" and features eight tracks packing their own punch.
'Memento Mori', the new album by German medieval folk rockers FEUERSCHWANZ, sees the band taking a step away from their simpler humor of earlier days and arriving as one of the most important bands in German folk rock!
On Christmas Eve Empyreal Sorrow will release their new E.P. 'Harm(ony) Within'. The band takes the Death-Metal-wheel, demolishes it completely, and puts it back together again in their very own way, creating an individual sound with a lot of interesting facets. Their musical construct is born out of aggression paired with ear-catching melody and a sometimes Black Metal-like atmosphere; the music is punchy, dynamic, and drills directly into your head.