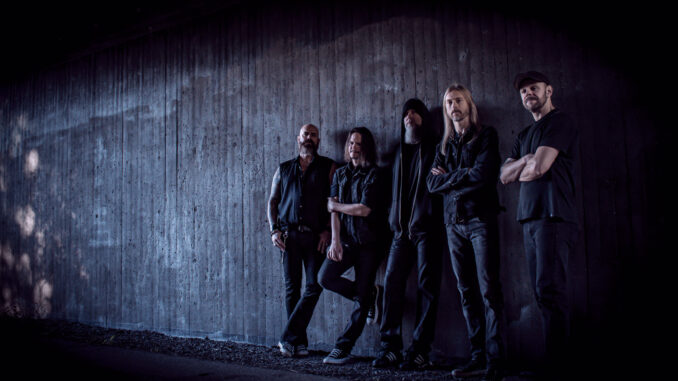 E.P. Review: Sorcerer - Reverence
Reviewed by Paul Hutchings
2020's 'Lamenting of the Innocent' was a highlight in a year of quality music. The band who reformed in 2010 cemented their line-up and the cohesion showed in an hour of excellent heavy metal that strayed a little from their epic doom tag. It certainly found favour with the metal community, the album showing strongly in end of year polls. 2021 has seen the band writing and slotting in shows when permitted and as we say good riddance to another virus riddled year, the Swedes provide one last present in the shape of 'Reverence'.
Now, I've said elsewhere on the site that cover versions rarely inspire me. I've heard too many bands mangle Rush to breath easily when other favourites get dragged onto an album as an 'extra'. However, on occasion, such as the recent Pale Wizard Alice Cooper tribute, bands can truly add something and then it gets a bit more interesting.
'Reverence' contains four covers. One is a stone-cold classic. The others are well known, but to push them all as classics may be pushing it. Rainbow's 'Gates of Babylon' is rightly in pole position here. A track that featured the incredible pipes of Ronnie James Dio, it's a brave decision to even contemplate it. Thankfully, Sorcerer don't attempt to match the pace or pomp of the original, but add their own heaviness with a slower, doomier, riffier version which is magically enjoyable. Capturing both the spirit and the atmosphere of the Rainbow song, Anders Engberg makes sure he avoids the RJD comparison, lowering his tone and adding emphasis on the lyrics. The thick riffs bring home what a good song this is, and what a solid performance Sorcerer have provided.
There must be a fair number of metal fans who have little knowledge of 'When Death Calls'. A track from Black Sabbath's 14th album, 1989's 'Headless Cross', it featured Tony Martin, an underrated singer who featured on four Sabbath albums from 1987 to 1995. Sorcerer take it and completely own it. From the vocal intro that Engberg instantly grasps, the thumping middle section when it erupts into a magical heavy metal anthem and the soaring lead guitar work that lights the track up like a landing strip in the night, there's nothing to dislike here. It may not be a classic by any means, but this version certainly brings the track back to life.
You may think that there is little comparison between those stallions of the highway Saxon, the NWOBHM flagbearers, and Sorcerer. I'd have certainly been with you. Taking on one of the Yorkshire band's live staples is certainly a brave move. 'Crusader' is an anthemic, flag waving track that Saxon have included for decades. Sorcerer don't let it down in any shape or form. The key that Engberg sings in may be lower than Biff Byford, but the Sorcerer frontman brings enough gravitas to make the song his own. Elsewhere, the musicians keep it heavy, never overplaying it and whilst they stick relatively closely to the original, there is enough flair within the band to flesh this out into an enjoyable version.
In my opinion, the weakest one here is Ozzy's' Waiting for Darkness'. Drawn from 1983's 'Bark at the Moon', what Sorcerer do is add plenty of heft. The original featured more keyboards, but of course, it had the Double O at his peak. Sorcerer maintain the core of the song, avoiding any real damage to the original and give it a good go. It's possibly the hardest song for them to cover, but whilst it doesn't grab the attention in the same way that 'Gates of Babylon' does, it certainly displays the musical quality that Sorcerer possess.
This kind of EP is usually a 'fans only' release. Perfectly enjoyable, with the songs well known to this reviewer anyway, 'Reverence' provides a decent homage to four influential artists whose music is treated sensitively and with the respect it deserves. Worth a listen, even if only for 'Gates of Babylon' and 'Crusader'.