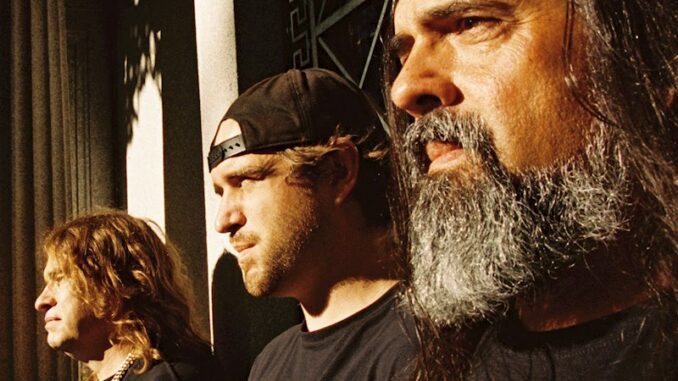 Album Review: Grave Next Door – Sanctified Heathen
Reviewed by Neil Bolton
In 2018 brothers Patrick and Anthony Salerno formed a band and named it due to the location of the local graveyard. Grave Next Door have an ethos to record music that is raw and real and this undertaking is carried out to the full with this debut album. Sanctified Heathen contains music that has a raw punk sound, mixing with the musical sensibilities embraced by late 70's / early 80's rock.
The Michigan trio have a nice way of blending heavy metal with this vintage sound to produce a distinctive sound based around the subject matter of addiction, mortality, war, along with personal experiences. These may be typical metal hunting grounds but Grave Next Door manage to sound unlike similar bands in their field.
Dirty fuzzy riffs flow into distortion filled guitar solos while the percussion keeps tight reign on the music. The vocals are clean and sit firmly in the middle of the mix, just adding to the doomy sound. The track 'Heavy as Texas' is a perfect example of this achievement. The riff is sticky and the tune flows well from chorus to verse. All the time displaying the raw heavy element they set out to achieve.
The band can calm the mood of a song before basting out a killer riff accompanied by bouncing bass leading once more to a more calm guitar section that still always manages to have a sense of menace contained in the lyrics and vocal delivery. Track no 6 'Heathen' manages this feat very well with the next number 'Sand In The Blood' kicking off with a mellow guitar sound once more only to be usurped by a powerful riff providing a bed for Travis Soleski's angry sounding vocals.
Sanctified Heathen is indeed a raw sounding collection of songs that have passion, fear, and anger flowing through every one of its eight tracks.