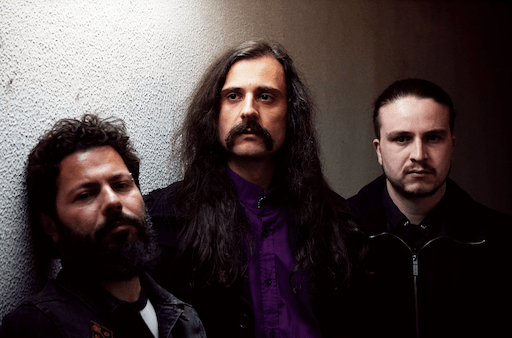 Album Review: Obsidian Sea - Pathos
Reviewed by Matthew Williams
Following on from their 2019 Ripple Music debut 'Strangers', Bulgarian doom metal trio Obsidian Sea are back with seven new songs, that are dripping with strong melodies, atmospheric musings and wanderlust.
'Pathos' has through time, "accumulated a rich and sometimes contradictory meaning ranging from pity to disdain" explains vocalist Anton Avramov, and this seemed apt, as the album deals with "themes like mourning the lost sense of wonder, longing for a renewed connection with one's existence that was once seen through myth, fable, rite and could perhaps still be reached by hope, humility and sacrifice."
From the first few notes of opening track 'Lament the Death of Wonder' you can sense a feel of wonder surge through your body, an epic tale enfolding in front of you, being told by a wizened old man. It's captivating, the mood changes throughout the songs are mesmeric, adding mystic to the dark, evocative proto-rock.
The music is allowed to flow freely, with Anton's soothing vocals, demonstrated epically on 'The Long Drowning', allowed to wash over you like waves caressing the shoreline. It's just over 6 mins of music heaven, a beautifully crafted song, before the next creative masterpiece, 'Sisters' kicks in. This wonderous song gives all the band, Anton on vocals/guitars, Delyan Karaivanov on bass/backing vocal and Bozhidar Parvanov, ample time to showcase their collective talents, and an album that has been surrounded by insecurity and frustration, is allowed into the wild for all to see, like a butterfly emerging from its cacoon.
These are some very talented chaps indeed, and their brand of emotive doom mixed win with progressive heaviness, will win them legions of more fans. 'Mythos' has a slightly harder edge to the riffs, and will get the neck muscles working, before the pace slows down again with "The Revenants" with this song feeling more like a dream sequence, before the heaviness kicks in again, but encapsulating the fragility of romance.
The final two songs, 'I Love the Woods' and 'The Meaning of Shadows' have a lovely LSD induced psychedelic 70's vibe to them, as the trio immerse you in their world, bereft of wonder and also deprived of honesty and therefore inspiration, the journeys end upon us. Pathos indeed.