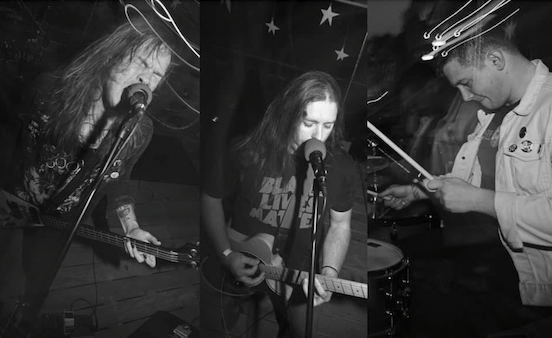 Album Review: Milquetoast - Caterwaul
Reviewed by Dan Barnes
Being possessors of perhaps the most misleading band name as there is nothing timid, meek or mild about the debut record from this Indiana three-piece. Rather it's a collection of ten stoner-punk anthems, that switches between raging at the state of the world and pointing out the insanity of the whole endeavour.
Blending boisterous heavy rock power chords with irreverent punk attitude, Milquetoast follow the path forged by bands like the Melvins and Mudhoney. Step Off's laconic progression is built on a solid foundation laid down by Nick James and Bassist Andy Bowerman, whose work allows six-stringer Ty Winslow the space to weave sonic tapestries. Those stoner vibes continue in the wonderfully named, Space Force, a psychedelic piece with a Peter Gunn-style bassline and a sixties sounding clean guitar.
But there is also a flipside to Caterwaul, a darker and more nihilist side – an evil-twin, if you like – birthed in the glow of bands like Black Flag and the Dead Kennedys, through which Milquetoast can channel their inner ire. For all Space Force is a cheeky little ditty, it descends into a shadowy vocal, reminiscent of Jeff Walker's sneer.
Dead Inside, Matapocos and Wall all bear the scars of a snotty punk attitude: driving beat and pummelling rhythms yet infused with incessant hooks and some captivating guitarwork. Stoner Safari – as its title may suggest – sits somewhere in between, in that liminal space where punk and stoner cross into each other, mixing fuzzed-up bass with driving rhythms.
Fake News Blues is something of an oddity – incorporating schizophrenic and dissonant guitar patters with an angular and angry presentation. It comes across as being a hint that Milquetoast, for all their loud riffs and cheeky vibes are capable of something far more sinister and poignant.
Ultimately, Caterwaul is a fine showcase of where Milquetoast are at during this point in their career. Having formed in 2018 and with the dumpster fire that has been the past few years, it is promising that they have managed to produce such a competent and confident sounding collection of songs.
Drummer James comments: "most folks will be able to tell that we're a bunch of stoner doom metal nerds attempting to play punk." But I think it's obvious from Caterwaul that Milquetoast are more than such a simplified definition.
Photo credit: Benny Stucker