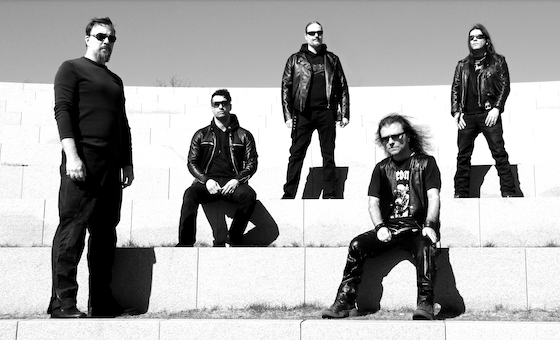 Album Review: Sarcasm – Stellar Stream Obscured
Reviewed by Sam Jones
When I saw Sarcasm had a new album coming up, I was certainly curious. Formed way back in 1990, Sarcasm are a group who have certainly been at this for a while now even if their earliest years never reared up a full length release having split up in 1994, leaving behind a slew of Demos. Then came 2015 bringing with it the band's reunion, and their debut album Burial Dimensions just a year later. Ever since then the band have been on a roll releasing a new album nearly every other year, they're clearly making up for lost time. Stellar Stream Obscured stands to be the band's fourth album release in six years and I quite liked their previous release, so I was pretty excited to see what these Swedes had managed to craft for us this time round.
There isn't that much bass going into the album's sound, it's rather evident from how the drums come across to us. The vocals and guitar work is the clear standout from this record as they're able to give us the strength this record really needs. The drums on the other hand may go full bore on your senses but loud as you may want this album to go, they'll never once make a marked impact on you it's a shame really because you can hear them quite easily as blast beats and intricate drum patterns give you everything you'd expect from a band such as Sarcasm. But the drums come off with this very wooden and lifeless sound to them, I don't know if it's the type of drum they've used or the way they've mixed them in but there's absolutely nothing impactful to find happening with these drums. They're sadly the equivalent of a child hitting blocks with a wooden toy; it's that similar material striking the other which creates this dead sound to the drums.
An erratic but still structured guitar performance can be found from time to time here. It's not something I expected from Sarcasm who, in my mind, have always been a band to incorporate straight up death metal riffs within their songwriting. However I'm not against the inclusion of more sporadic displays of riff performance, it gives their songwriting a healthy dosage of variety as well as keeping us on edge for what the band could give us next. Will the next riff be conventional or will it be oddly timed? The fact that we get a track with an unusual riff right out of the gate with "Through The Crystal Portal" is proof enough that Sarcasm don't wish us to form any predictive ideas for how this album will play out. Due to a lacklustre drumming presence, the guitar work takes a step up in prevalence here as your attention will naturally shift from the band on the whole to the riffs which assuredly carry the vast weight of your attention and ultimately the band's hopes for this record.
The production feels quite hollow, mainly because of that distinct lack of bass flowing through the band's performance. When a new track fires up, the band aren't following suit with a bold demonstration of power or might, instead it feels like their sound is coming from quite far away as if they've positioned themselves on the stage but we've been placed right at the back of the venue. It results in a hollowed out performance evoking the sense that there is something crucial missing. It's like the band just forgot to implement the bass within their record which sounds ludicrous as you can hear it from time to time throughout the record's duration. If this is the case, the bass needed to be massively amplified to even be acknowledged as a residual element of the album's makeup. It's like listening to Metallica's …And Justice For All where the guitar and vocal work is the crux of the band's performance and the bass has effectively been sidelined. In this instance that isn't the fullest case, but it would certainly seem so.
The vocals though are the best part of the album if you ask me. With the production and mixing woes that seem to be interwoven into this record it's great to know that the vocals give us the strength, personality and identity that would otherwise be lost on the album if they weren't at the level which they operate at. They manage to pierce through the riffs and other instrumentation to offer a vocal delivery that really stands out not only here but against many other records I've listened to lately as well. What's more is how they've been mixed into the record so they always stand out, there's never the threat of them being drowned out by the riffs. The two elements are clearly distinct from the other and you're always able to identify the realised riffs and the vocal performance happening simultaneously, equally enjoying one as well as the other. This review may appear like quite a downer but on this the band got this down absolutely right.
In conclusion I will admit that, yes, this album has drawbacks. I think the drums are fairly weak and the bass needed a serious boost in the mix. I think the production at times leaves the albums with a hollowed out sound here and there which makes for a weird mixing experience as it's like you need to reposition yourself in relation to where their sound is coming from. But then again I can absolutely praise the guitar work, it's variety of riffs and songwriting pieces that keep things fresh and engaging. The vocal performance is an exemplary piece of extreme metal vocalisation, not only mixed really well amongst the riffs but also in how they stand atop everything else the band give us without collapsing in on the instrumentation thereby lessening the guitar and drumming work. It's a real oddity of an album where I can identify legitimate issues with its production and mixing but on the other hand, utterly praise it just as equally. I don't believe it's as strong as their last album yet I still don't believe it's actually a bad album despite all I've said. It's a true enigma. One still worth looking into.