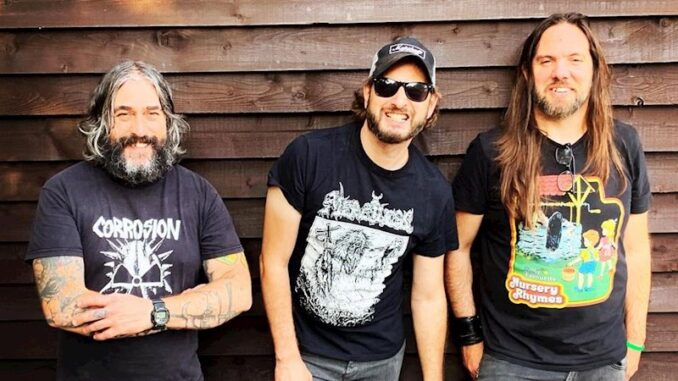 E.P. Review: Possessor – The Speed Of Death
Reviewed by Matthew Williams
If you are looking for something short and spiky to kick away those January blues, then this 4 song EP from Possessor is just what the doctor ordered. For those enduring a dry January, this will get your body moving, head shaking and feet tapping, as it wakens you from your slumber.
The trio from London have been together for 8 years, but Graham, Marc and Nathan have decided that this will be their final release via APF Records, and are going out on a high with this quartet of songs inspired by the end of the world and the decay of humanity, injected with the trios usual humour, to deliver some horror drenched metal, I mean who doesn't love a bit of that eh!!!
The one aspect of the songs that kicks you squarely in the face, and will have your ears bleeding, is the barrage of overdriven bass from Marc Brereton, its just relentless, from the opening of "Twisted Nerve Endings" it keeps the songs on point throughout, and gives great depth throughout the EP. And the riffs from Graham Bywater are sumptuous, simple, yet effective, fitting the songs like a glove, the trio are on top form here, and the opening track is a real killer from start to finish.
Second track, "Medusa Lives" begins with a haunting opening reminiscent of a 70's horror film, then suddenly comes to life, picking up a relentless pace, with pile driver drumming from Nathan Perrier at the forefront. It's short and fast, the bass prominent again, which I love by the way, before coming to an abrupt end, allowing "Paura" to give you a quick pause for breath, before the final track "They draw Blood" begins and reminds you just how good Possessor are. I advise you just to sit down and listen to this final song, as it really is class from beginning to end, and no words I write can do it justice, but in the words of Larry David it's "pretty, pretty, pretty good".
All three separate entities are combining here to make music that they all clearly enjoy and you can tell that they are having fun, which is what it's all about. They fuse together really well, and "The Speed of Death" has songs that are full of furious energy, designed to melt your face off. Possessor have signed off in style with this one.