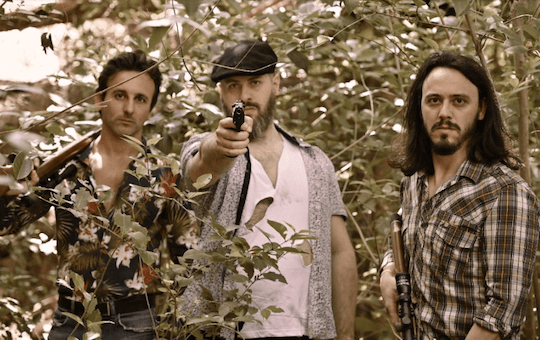 Album Review: Rabid Dogs - Black Cowslip
Reviewed by Dan Barnes
The fourth release from this Italian stoner-grind trio is more dirty rock & roll than Napalm-inspired rage. But, fear ye not, for the three-pronged vocal delivery from Blade, Doc and 32 is still sounds like they have been collectively gargling broken glass.
Opening track, The Crown and the Fist established Rabid Dogs' agenda immediately as it lays out a clear manifesto of driving rock and roll, built on a massive bottom end but with hooks so infectious they'll put the country back into lockdown.
That's not to say there's anything predictably about Black Cowslip: Fucking Spaced Out combines its driving rock and roll with an unmistakeable punk beat, whereas Sgt Kempfer is constructed around a distinctly NWOBHM riff before launching into a full-on frenzy.
Elsewhere, even the most ardent Son of Sabbath would be distracted from their beard-growing to immerse themselves in the solos of Charlie Lucky, The Theban and the album's title track. Contrast this with the urgency of Raw Deal, which ups the tempo and adds more weight to the breakdown but still manages to include a harmonica accompaniment without it appearing grossly out of place.
In fact, the harmonica can be heard seamlessly incorporating itself into Angel Face, Frisco Joe and the afore mentioned Fucking Spaced Out as if it was the most natural inclusion in the world.
Musically, the band manage a monumental sound for a trio, with 32's drums casting the foundation upon which Blade can build his bass lines; Doc's guitar switches from being raw and aggressive to laid back and laconic whenever the mood of the track demands and he even manages to imbue his soloing with an unexpected warmth.
In Black Cowslip Rabid Dogs have delivered a hybrid of pounding dirty rock & roll and chilled stoner grooves and have done so with apparent consummate ease. At no point during the half-hour run-time does it sound like a mishmash of ideas, rather the album comes across as a perfectly formed whole where everything is exactly where it should be.