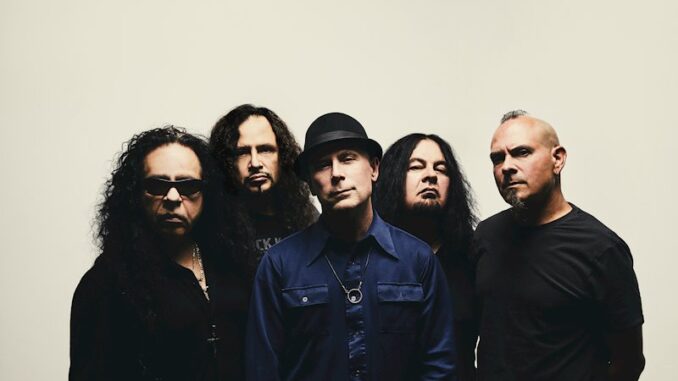 Album Review: Armored Saint – Raising Fear / Delirious Nomad / March of the Saint [Reissues]
Reviewed by Gareth Pugh
Back in 2020, wow is it really almost 2 years ago, I had the honour of reviewing 'Punching the Sky' the eighth album of US veterans Armored Saint, and what a fabulous slice of contemporary metal it is, chocked full of catchy songs and stellar song writing. Now if you liked that album and wanted to check out the Saint's back catalogue, you might struggle as many of the older albums were out of print. Well worry no more, to coincide with the band's 40th anniversary, Metal Blade Records are about to release the first three full length studio albums, 'March of the Saint', 'Delirious Nomad' and 'Raising Fear', on CD and loads of coloured vinyl and 180g black vinyl, with brand new liner notes and never before seen photos.
Always difficult to categorise, Armored Saint are sometimes branded classic metal, power metal and also speed or thrash metal. The truth is they use elements of each genre to make their own unique style with the most distinct part of their sound being John Bush's unmistakable voice, with his powerful, gritty almost smoky tone.
First up is 1984's 'March of the Saint', not quite the starting point as they brought out their eponymous E.P. the year previously, but that looks like it's missed out on this re-release project, it would have been nice to have included it here as bonus tracks, but perhaps legally this wasn't an option. Anyway, starting out with the anthemic title track, this is a great debut album, the production is clear and powerful - if perhaps a little dry - but it's the songs that are the main attraction. With tracks like the speed metal of 'Mad House' (predating the Anthrax song), the galloping standout 'Glory Hunter' and fine finisher 'False Alarm' all providing a very solid base for the band to work from.
Sophomore release 'Delirious Nomad' is instantly distinguishable from its predecessor as soon as opener 'Long Before I Die' launches itself out of your speakers. The production is noticeably heavier and the delivery a little darker and more mature. The band's song writing appreciably better, with a more developed and improved use of melody and dynamics.
Pseudo title-track 'Nervous Man' like the previously named starter are early standouts. The sound this time around is a little more guitar orientated, with now sole guitarist Dave Pritchard (RIP), Phil Sandoval having left during the recording of this album (only to return for 4th album 'Symbol of Salvation') putting in a great performance with some excellent solos and riffs, all anchored by the solid yet adroit rhythm section of bassist Joey Vera and Gonzo on drums.
This is a very solid album and it just gets better as it goes along, there's literally no weak tracks and arguably they keep the best until last with the closing quartet of 'Aftermath', 'In The Hole', 'You're Never Alone' and the driving 'Released'. So much for the difficult second album, Armored Saint passed the test with flying colours.
Last up of this trio is the band's third album 'Raising Fear' and sadly the final one with founding guitarist Dave Pritchard who tragically passed away from leukaemia after its release. Bookending the album with the two fastest and most aggressive tracks, the superb pounding 'Raising Fear' itself and rapid closer 'Underdogs', the band flex their already considerable song writing ability with the brooding, slow burning 'Isolation', the excellent 'Chemical Exposure', probably the strongest track here, but again there's no filler on display, with 'Book of Blood', Terror' and the previously unavailable (on vinyl at least) 'Crisis of Life', are all more than solid metal songs guaranteed to get the toes tapping and the head banging.
I'm only partially familiar with the Saint's back catalogue, and I've really enjoyed becoming acquainted with these three early albums. It's a bit of a shame that the only extras are the new liner notes and photos, and the single vinyl bonus track, the addition of some demos or live tracks would have really pushed these re-releases to another level. As it is, it's still great that these difficult to get hold of classics, especially on vinyl, are going to be available again. If you like classic, very well written, performed and produced catchy heavy metal with the odd heavier, and also quieter more contemplative moments, now is a great time to get hold of these under appreciated classics.