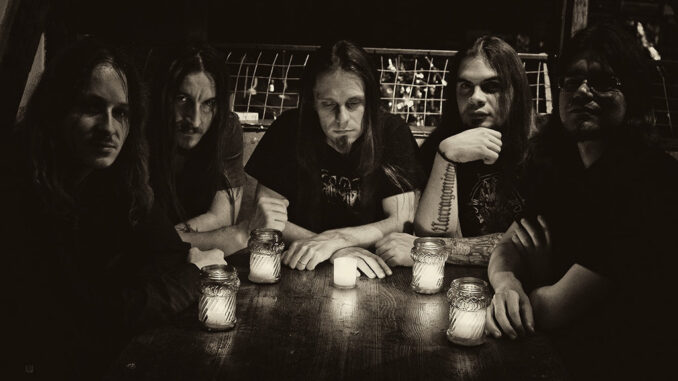 Album Review: Et Moriemur - Tamashii No Yama
Reviewed by Richard Oliver
Et Moriemur are a band that hail from the Czech Republic forming in 2008 and Tamashii No Yama is the fourth full length album from the band. It is an album that sees the band exploring Japanese themes in their music and lyrical content having previously explored Greek themes on prior album Epigrammata.
Tamashii No Yama is an album that mixes the atmospheric and progressive with a heavy doom-laden sound which incorporates nods to black metal into their atmospheric doom metal sound as well as the utilisation of many classical and traditional instruments from cello, viola and harp to the shakuhachi. This should be all the ingredients for a joyous musical experience but unfortunately this album falls short of expectations. There are some beautiful moments throughout this album such as Izu with its stunning use of choirs and Otsuki which mixes aggression and atmosphere together in equal measure but on the whole the music is rather flat and lacking in power.
Despite the Japanese theme and the use of the Japanese language in the lyrics, the album doesn't sound particularly Japanese influenced apart from a few select moments. The songs also generally don't stay with you after the album has ended. I've listened to the album multiple times and can't really remember a whole lot about it.
As a fan of doomy and atmospheric sounds I found myself massively underwhelmed by Tamashii No Yama. It is not a terrible album but one which fails to live up to its potential. It is certainly far from the worst thing you will hear this year but it is just a very underwhelming listening experience on the whole with many songs which sound and feel very much like filler. Et Moriemur have pretty much universal praise for previous album Epigrammata so hopefully this is just a minor misstep for the band. This is decent background music but it definitely lacks the wow factor.