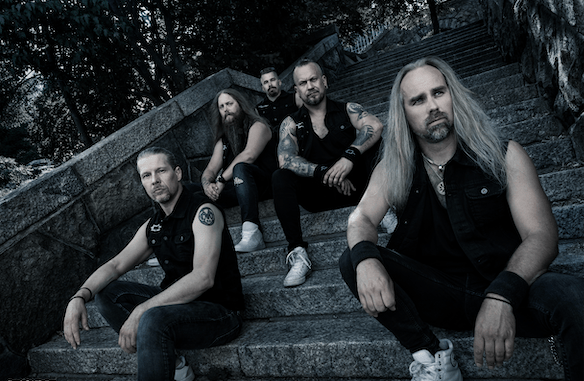 Album Review: Omnium Gatherum - Origin
Reviewed by Paul Hutchings
Omnium Gatherum are a Finnish melodic death metal outfit with a strong catalogue behind them. Eight full-length releases in their discography since their formation in 1996, with the most recent being 2018's 'The Burning Cold'. They symbolise the quality that top of the range bands of this genre deliver. A new album is always worth a listen.
It's been a long road for the band to get to their current position, but their progressive nature and expansive sound that has evolved organically over the years has flowered into an album of high quality… and all laced with some ridiculously catchy pop influences that lurk waiting for the unsuspecting listener.
'Origin' marks the debut of new members Mikko Kivistö (bass) and Atte Pesonen (drums) who join vocalist Jukka Pelkonen, Markus Vanhala - guitars and clean vocals and keyboard player Aapo Koivisto. The inclusion of Vanhala's clean vocals provides the perfect foil for Pelkonen's gruffer delivery. Vanhala's guitar work is substantial, clinical, and yet full of warmth and soul. In fact, the whole band sound incredibly cohesive throughout.
'Origin' can be interpreted in many ways. Reviewing the song titles, from opener 'Emergence', through Reckoning, Fortitude to closing track 'Solemn', one could believe that this is an album which explores the themes of the human mind. Alternative options are available and as is best, it's down to the listener to make those decisions for themselves.
The threat of an AOR element to the band's musical style must surely impact on some of the hardcore old school fans of the band. I'd suggest that it's not something that requires fretting about. The soaring harmonies and melodies on tracks such as 'Fortitude' add greatly to the band's sound, providing a wider and more expansive style. Whilst their style has matured, there is still plenty of steel in their delivery. The explosive 'Tempest' sees heavy riffing and thunderous drumming and Pelkonen's roar combine in a raging maelstrom which still retains an uplifting current of delicious melody.
Koivisto's keyboard playing is the key to that AORDM (Adult orientated Death Metal) with some definitive 80s feel in the contributions. That doesn't detract in any way, and in many ways the layers of synths add to the overall flavour and compositions. The interplay with Vanhla's searing lead work makes this an album to play repeatedly. 'Unity' is just one example of the epic scale of this record; a majestic and imperious song that blends everything the band produce in one stellar and uplifting song.
The songs vary in length, with the superb album closer 'Solemn' clocking in at just short of nine minutes. Elsewhere, there are shorter four-minute workouts, as well a couple of six-minute tracks. It all makes for one massively pleasing release, which provides a surprise with every play. Album number nine may just be the finest hour for Omnium Gatherum, and one which no-one could surely deny to a band that have paid their dues multiple times.