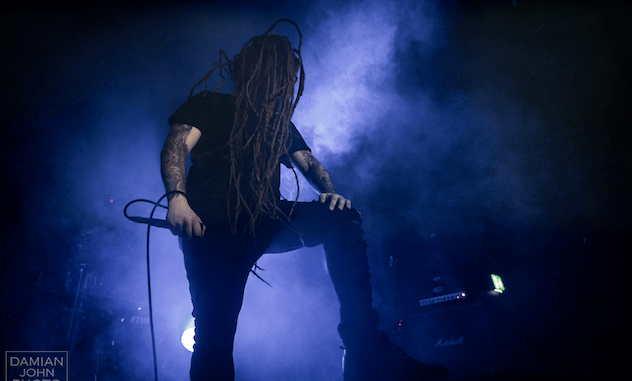 Live Review: Decapitated - O2 Academy 2, Birmingham
4th April 2022
Support: Suffer, Harbinger, Signs of the Swarm
Words & photos: Damian John
It's a Monday night in the second city, I join a hundred or so extreme metal fans all dressed in black waiting for the doors to open to the O2 Academy's second room. Tonight I want to feel my chest burst, I want to have my eardrums explode, I want to witness carnage and I think I'm at the perfect location for that as tonight I'm here to see Poland's premiere extreme metal band: Decapitated. Having only released their latest album 'Cancer Culture' a week ago, Decapitated are on the road doing a UK tour joined by 'Sign of the Swarm' and 'Harbinger'. A move I'd like to see more larger established acts make, they've given local lads, well Wolverhampton based, 'Suffer' the honour of opening the show, let's see how they get on.
Suffer walk onstage and are forced to the very front due to the amount of backline gear behind them, a struggle every opening band knows. It's an explosive start from this wolves based quintet. Their first track hits hard and heavy and it immediately catches my attention, prompting me to stand back for a brief moment to appreciate what was going on onstage before returning to my photo taking duties. Despite the lack of space to fully stretch their legs they're still able to put on a compelling performance with their music easily carrying them along. The crowd seemed to respond pretty well too with a few dedicated individuals attempting to start a pit but unfortunately I think the crowd was just a bit too thin at the time, shame really because all those who turned up late really missed out here.
On paper I'd have thought Harbinger would have been an odd addition to support Decapitated but after seeing them in the flesh it makes perfect sense. They're not your average hardcore band, for one they're so much heavier and their music is so much more intricate. That's ignoring their stage presence which lets be honest is brilliant. Bassist Kris Aarre isn't afraid of moving and joining vocalist Dilan Alves bounce around the stage. Guitarist Charlie Griffiths' solos are on point during the performance and altogether they're an incredibly tight unit even with a member down as we're told drummer Joel Scott is 'currently very ill in a hotel room somewhere near a toilet'. Jumping into their final song, the crowd have finally started moving with multiple pits breaking out, not the first we're going to see for sure.
I said I wanted to feel my chest burst and Signs of the Swarm certainly delivered on that. With bass drops so low I'm sure there are whales in the Atlantic wondering who called their name. Vocalist David Simonich is crushing, demanding circle pits from the Brummie crowd, I can't tell from where I am but I'm pretty sure bodies are being thrown around like ragdolls. 'Hymns of Invocation' gets a particularly strong response, there isn't a single person on the barrier not banging their head along to the mayhem surrounding them. I'm genuinely worried about how Decapitated will follow such a strong performance but as we're reminded, this is 25 years of Decapitated, they're no strangers to following tough acts and they've sure as hell got the experience to back them up, I hope. Without a doubt though, Signs of a Swarm win the nastiest band of the evening award.
Decapitated are a different beast altogether, while not as crushing as the likes of Sign of the Swarm, their experience is quickly made apparent. They're a well oiled machine at this point in their career, there aren't many other acts 25 years into their musical journey who are still capable of producing music which is still relevant and cutting edge. Speaking of which, they opened with their brand new single 'Cancer Culture' which held its own when followed by fan favourite 'Pest'.
Decapitated may have one of the strongest rhythm sections in extreme metal provided by drummer James Stewart and bassist Pawel Pasek who lay the foundation for guitarist Wacław "Vogg" Kiełtyka monstrous riffs. 'Earth Scar' is a definite standout for me as the solo finishes and that thunderous riff comes in, you all know the one. Atop of the wall of sound are Rafał "Rasta" Piotrowski's vocals who is equally as famous for his dreadlocks which hang by his knees and are routinely whipped towards the crowd completing the signature Decapitated look.
It's easy to work out how Decapitated have managed to stay so relevant over the course of 25 years. They have a consistency like no over and tonight's performance is clearly a testament to their ability. They're able to keep up with bands much younger than themselves and their back catalogue is as crushing now as it was in the beginning. Here's to another ten, twenty or possibly twenty five years.
Twenty Five years of Decapitated and still going strong. Keep crushing.