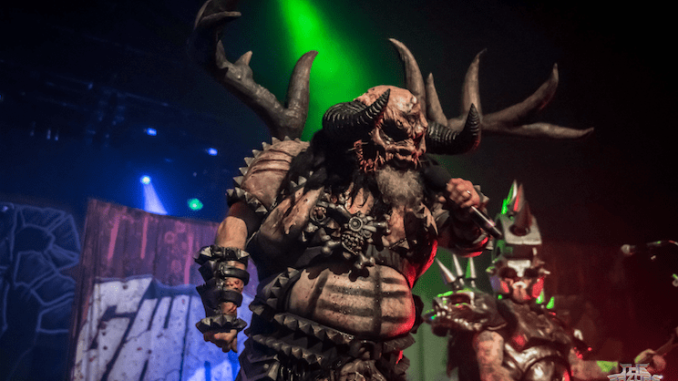 GWAR Drop Brand New Single, 'Mother Fucking Liar
Humans, you have waited long enough! The day is finally here! As of today, your Lords and Masters GWAR unleash their latest aural masterpiece. Taken from their forthcoming album, 'The New Dark Ages,' GWAR is pleased as piss to debut the song, 'Mother Fucking Liar'! Watch the visualizer below.
Vocalist Blöthar the Berserker informs us;
"This song is for anybody who's sick of all the pieces of shit talking out of both sides of their mouth. Motherfuck a motherfucking liar."
The album will be released via the band's own Pit Records, on both CD & Digital formats on June 3rd, whereas vinyl and cassettes arrive on September 16th. Pre-orders for 'The New Dark Ages' are live now over at https://lnk.to/GWAR_TNDA.
'The New Dark Ages' chronicles GWAR's adventures in the Duoverse, where the band rediscovers old powers such as Blóthar's terrifying Berserker Mode, and encounter new allies, such as the murderous maven known as The Cutter. Along the way, they battle the living monuments of a lost cause and armies of undead soldiers who Rise Again to fight a new civil war.
On the 'The Black Death Rager World Tour,' your favorite Scumdog warriors will touch down in Europe for the first time in almost three years. The tour kicks off July 29th in Tilburg, Holland and culminates with a show at London's Dome on August 18th. In addition to GWAR's own headline shows, the tour also features stops at Bloodstock and Wacken Open Air.
The Berserker Blóthar had this to say about the coming trek:
"Ah Europe, the Old Country. We shall sweep across the continent like the plague, bringing pestilence and death and our unquenchable thirst for heavy metal glory."
Fans can expect to hear all their GWAR favourites and blistering new tracks from the band's new album.
The New Dark Ages album concept is tied to a companion graphic novel, GWAR In The Duoverse of Absurdity, in which the band are sucked off into an alternate universe to do battle with their evil twins and the spectre of rogue technology.
The album is available to pre-order on cassette, CD and an array of coloured vinyl (whiskey, sunbolt and black/gold marble) and the graphic novel is available in both soft and hard cover. Bundles are available including one with Blóthar bobbleheads, and a 'one of a kind' Beefcake helmet.