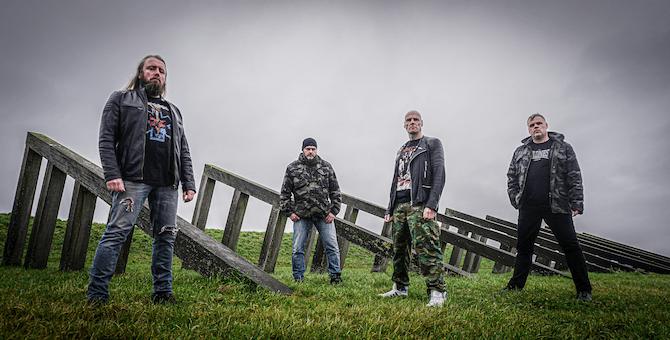 Album Review: Dead Head - Slave Driver
Reviewed by Paul Hutchings
It was a mere two months ago that I reviewed the reissue of the Dutch thrashers Haatland album. Having released their last full-length 'Swine Plague' in 2017, the quartet of Ralph de Boer (vocals, bass), guitarists Ronnie van der Wey and Robbie Woning and drummer Hans Spijker are now ready to unleash their seventh album on the world.
'Slave Driver' draws deep on the raw and aggressive thrash that emerged in the 1980s. Their sound sits heavily in the Teutonic firepower of Kreator, Destruction and Sodom but with more than a nod the visceral delivery of the likes of Dark Angel and Morbid Saint from the US.
Unsurprisingly, if you like your thrash metal savage and relentless, this should be going to be on your list. De Boer's vocals cross the boundaries of thrash and death metal, at times he veers far into the likes of Martin Van Duren of Asphyx whilst at others retains the feral anger of early Petrozza era Kreator. The drums are machine gun like, an overpowering battery of snare and double kicks. Dual guitar work gives razor sharp explosive lead breaks, with the blisteringly heavy riffing complementing the physical exertion of the engine room, De Boer's thunderous bass locking tight with Spijker's maniacal drumming.
Opener 'Acolyte' is razor sharp, retaining a rawness that should be illegal, such is the danger it presents. Fast, furious, and totally explosive, the mood is set and doesn't change for 45 minutes. The band is tight and powerful, although if you don't like thrash metal this one isn't for you. If you do like your metal like a jaggedly cut tin, then tracks such as 'Drawn into the Wire', with its razor-sharp riffs and searing lead work, 'Polar Vortex' with snarled vocals and a groove drenched breakdown that will get shapes thrown in the pit and the ferocity of 'Fear Scraper' will be just perfect for you.
'Slave Driver' is a nasty, feral release that takes no prisoners. I imagine their pits are of a similar frenetic nature. So, if you want your thrash unadulterated by modern times and are willing to risk fractures, bleeding, and bruising, grab a copy. Your neighbours might not thank you, but they really need to hear this.