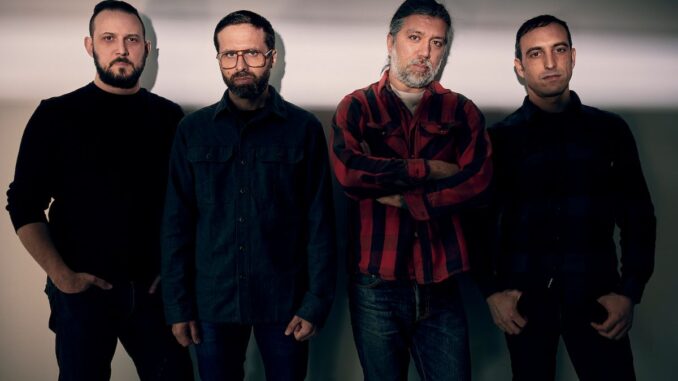 Album Review: Cave In - Heavy Pendulum
Reviewed by Tim Finch
At this stage in Cave In's career they are close to achieving legendary status. Throughout the early years of their existence their reputation grew as did a cult following with the four albums prior to their 2006 hiatus. On returning to the fore the band picked up where they left off and two further studio albums helped the band reach the attention of a new audience, as well as rekindling the fire with their original following.
This May the band are back, despite the tragic loss of bassist Caleb Scofield in 2018 to a road traffic accident. 'Heavy Pendulum' is the first recording without Scofiled, as 2019's 'Final Transmission' was the last album to feature him, despite being released posthumously. It will also be the first record from the band released to the Relapse label with whom they signed in July 2021.
The album has that old school Cave In vibe stamped all over it. As the pummelling opening riff drives home, Stephen Brodsky's distinctive vocals grip the listener from the opening bars of 'New Reality'.  It's a mesmerising tune that greats the listener to the new phase in the bands career, so distinctively Cave In whilst taking the next step forward.
The rumbling bass of Nate Newton echoing in the listeners ears as 'Floating Skulls' kicks off. Newton brings his own distinctive writing style to the creative table on this record and any old school Converge fans will pick up on that, which is no bad thing.
'Amaranthine' is a touching tribute to the bands former bassist. Both the title and the lyrics written in Scofields diaries and provided to the band by the late bassists wife. Despite the album being the first recording since his passing it's fitting to have Scofield still present.
Throughout the record the band keep the listener engaged and gripped by every musical twist and turn. Pummelling aggression meets gripping reality meets heartfelt tributes all within one hour of musical mayhem.
The Cave In train steams ahead, hop on and enjoy the ride!