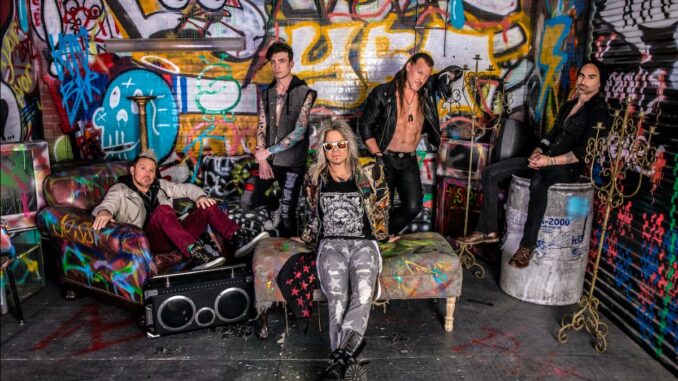 Album Review: Fozzy - Boombox
Reviewed by Tim Finch
Ten years ago, even five years ago the band Fozzy may have needed an introduction to some. However, come 2022 they are a band that needs no introduction, but I'm going to give them one anyway. Formed with a couple members of the legendary Stuck Mojo and fronted by the Demo God himself Chris Jericho, they even once featured the great Andy Sneap as a touring guitarist. Originally a covers/parody band of sorts they have grown into so much more and their 2017 album 'Judas' launched them to superstardom with its title track racking up millions of streams worldwide.
'Boombox', the bands latest opus, picks up where 'Judas' left off. First track 'Sane' has had plenty of airplay on the likes of Planet Rock and demonstrates the band evolution from 'Judas'. There's no denying it caters for the popular side of metal, which some hard core fans of the genre may turn their nose up at, but the words "fuck them" spring to mind.
Under the writing stewardship of Rich "The Duke" Ward they are able to produce an album full of metal anthems. The type of tune that will have your foot tapping, your fist pumping and your head banging before you even know what's going on. 'Purifier' a great example of this with its throbbing back line that gets your bloody pumping before Ward layers his silky guitars and Jericho adds that distinctive vocal style.
'Army of One' flips the album on its head, a ballad, which softens the album, gives it warmth and heart but most of all it highlights Jericho's vocal talents. Ignoring the controversy being waged between him and Sebastian Bach on the pages of Blabbermouth and other click bate sites, Chris demonstrates on this track just what a powerful voice he has.
The blood gets pumping once more as 'Ugly on The Inside' picks the pace back before the bands unique cover of 'Relax' – yes the Frankie Goes To Hollywood classic. The song got an airing on the bands UK tour last year and now we get the full album version, just a fun, joyous interlude.
Following 'Judas' and its commercial success was always going to be difficult. With 'Boombox' they have upped the pace, the power and no doubt will build on the momentum once more.