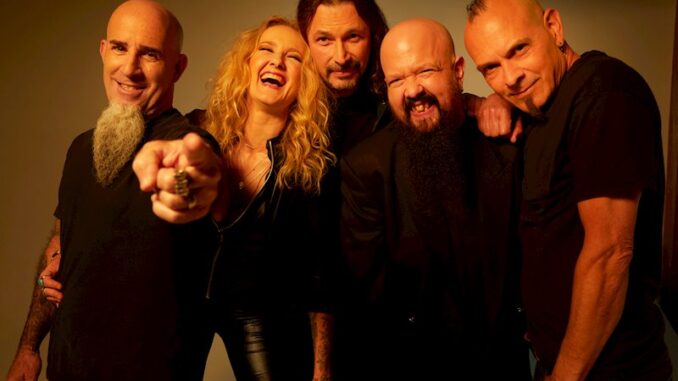 Album Review: Motor Sister – Get Off
Reviewed by Paul Hutchings
It's been seven years since Ride, the first album by Motor Sister was released. The band comprises vocalist/guitarist Jim Wilson (Mother Superior), guitarist Scott Ian (Anthrax), bassist Joey Vera (Armored Saint), drummer John Tempesta (White Zombie, The Cult) and vocalist Pearl Aday (Pearl), was originally formed to cover Mother Superior covers, with a debut at Ian's private 50th birthday party.
Having grabbed the attention of Metal Blade, Ride was released, a collection of live studio takes of Mother Superior's back catalogue. Having fulfilled that objective, the obvious next step was to write and release an album of mainly original material. This appears to have been a relatively easy process as Aday explained: "We're a bunch of songwriters with so much passion for the same kind of music, it just makes sense that we would make new music together, and it was easy as usual to follow Jim's lead on this one. He was overflowing with songs and ideas so we all happily jumped right in."
So, Get Off brings you 11 originals and a cover of Mother Superior's 'Rolling Boy Blues' which wraps up the album neatly. Described by Vera as "no bullshit hard rock and roll", the tracks vary in pace and style, but all contain a solid hard rock edge, with the interplay between Wilson and Aday particularly enjoyable. They demonstrate this from the opening track 'Can't Get High Enough', a raucous song perfectly placed to open the release. The chunky riffing and driving rhythm powers the band forward on 'Coming for You' which follows, Aday's smoky drawl combined with some sharp guitar work from husband Ian and Wilson. It's a high octane start and very pleasing, if only because of the high energy levels. Aday has a snarling delivery which fits well with the dirt-under-the-nails approach.
Get Off contains plenty of confident swagger as would be expected. 'Right There, Just Like That' gets the hips swaying, with a addictive riff and underlying groove, whilst the bombast of the fast-paced 'Excuse Me, Your Life Is Exposed' is sure to get you moving.
Elsewhere there's the more mainstream singalong of 'Sooner or Later' which drifts into Country rock and Americana, allowing Wilson and Aday to really get involved. It's a track that is steeped in Wilson's background of blues and Country rock. Then there's the robust 'Lion's Den' which fair rattles along, Tempesta's assault on his kit bordering on an offence. There's a nice bit of psychedelia which enhances the overall song as well. Plenty of melody, chunky riffs and harmonies exist throughout, with some more poignant music crafted in the song 'Pain', which sees Aday and Wilson perform an elegant and heartfelt duet.
'Bruise it or Lose it' has a central theme about surviving the music business, something that all of the band know a lot about, whilst the immediately apparent KISS tribute 'Time's Up' is guaranteed to bring a smile to your face. Before things are brought to a rousing finale with the riotous cover of 'Rolling Boy Blues'.
Recorded live in the studio. 'Get Off' has been delayed like thousands of albums in the past 18 months, but at last it'll be released on an unsuspected public. It is certainly a bouncy, vibrant, and explosive release. Whether I'd part with cash for it is another question, but it is certainly a great listen. Well produced and composed, Motor Sister have demonstrated that a second album is certainly a welcome one.