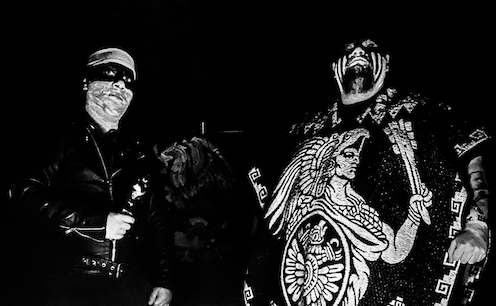 Album Review: Tzompantli - Tlazcaltiliztli
Reviewed by Sam Jones
Sometimes it isn't album art that grabs me but rather, a band's name. So when I saw Tzompantli crop up, I had to take a closer look. Formed recently in 2019 and hailing from California, United States, Tzompantli released their first EP in the same year titled Tlamanalli (the odd names are a running theme I noticed) before going rather quiet. But soon enough, record label titan 20 Buck Spin soon nabbed them and before long we had their first full length release lined up for a May 2022 date. That was another draw to this band; 20 Buck Spin rarely miss and have a near supernatural sight for knowing what bands are worthy of being added to their roster. So, as we can imagine, I was rather excited to see what encouraged this particular record label to seek out Tzompantli and what their first album would entail.
Evoking ritual sacrifices akin to Mayan culture, the introduction here does a good job at quickly asserting what this record's tone could be for us. I find it interesting how we've received a US band instilling a Mexican/South American ambience pretty effectively, and it feels more authentic than actual Mexican and South American bands I've heard. It's a credit to Tzompantli's atmospheric capacity. But then they get right underway and with an approach to songwriting I wasn't expecting. When I first saw this album I thought it was going to be a juggernaut of blistering speed and savage intensity, something reminiscent of War Metal bands like Revenge and Diocletian. Instead, they flip expectations on their head and offer us songwriting that's gradual, massive and allows you to feel the weight of their riffs, as well as feeling their picks strum through each string in succession to achieve that sound.
The weight of the riff is the star of show here, its where the band truly demonstrate their strength. It's not simply that the riffs and songwriting hit with voracious speed that makes this album the attention-grabber that it is, other bands have tried this style of caveman riffs to little avail. It's in the mixing; Tzompantli have managed to give their riffs just enough of a hollowed out sound that their guitar work isn't so completely compacted, as a result the soundscape isn't so gargantuanly suffocating and therefore the band allow you to breathe and coherently take in the guitar work at hand. Furthermore, as mentioned prior, you can feel the guitarist's pick moving its way through the various strings, so the riffs aren't merely constructed of sheer slabs of concrete. Their songwriting therefore takes on much greater size and volume within the walls of the record because the band have enabled their riffs to assume grander scope, to reach out further than a super-dense riff would likely be capable of reaching. By mixing their riffs with just a small percentage less density, they've guaranteed they'll reach more people more vividly and ensure repeated listens. The riff here is intoxicating and you can bet on your return, time and again, for your fill.
But I think the riffs alone don't give the band's sound the bite it possesses. Listening closely, you can absolutely make out the bass pummelling away in the background and, what's more, it's always audible and after picking up on it the first time round you'll always be recognising it in whatever track you're listening to. This isn't the kind of death metal where the slabs come only from above, they're oncoming from above, below, sideways, they're practically diagonal in places. This is achieved by having the bass guitar just slightly misaligned from the main guitar work, hence why you're able to thoroughly listen to both aspects at once without a lessening thrill of the other. The bass guitar isn't clean by any measure, especially throughout a record like this. But even so, it's hideously ugly. It harnesses this repugnant and decaying nature that bleeds seamlessly into the band's macabre aesthetic, you should wish to look away but it's so outside what you think a bass should like that you dare not turn away in fear of missing something fearsome.
But the band made great use of pacing as well. For the most part they utilise what I'd describe as a creeping pace; the kind that is neither fast nor slow but one that's forever encroaching on us at an eventual and neverending mission. I'd argue this choice of pace benefits the band greatly as it allows their choice of guitar tone and riff to stand out all the more. Had their pacing been much more relentless, employing blast beats and ripping intensities, I doubt their songwriting would exude the impact and power as it does herein. In addition, you'll also find samples of whistling, drums, chanting etc that also aid to immerse us within this ritualistic atmosphere. It's like listening to Tzompantli play as a background band to an Aztec horror, and so that gradual pacing allows all the immersive elements to play out in their own time. The band never rush themselves, thereby allowing a record barely above 30 minutes to feel much more accentuated and worthwhile to check out.
In conclusion, while this album really doesn't extend far past the 30 minute mark it really stays with you once the last riff has done it's due. In many aspects, this record doesn't do very much. What you hear at the beginning is what you'll experience towards the end, there are no surprises of any sort lying in wait for us. It's an album of crushing and eventual power from start to finish, and that's all it needs to be thanks to the attention that it was given by the band. The songwriting is straightforward but with the riffs and tone the band present us with, it didn't need to be anything overtly superfluous. The Mayan/Aztec aesthetic is something unique to the band, even if they don't go too overboard on that element. If anything, it's this minimalist approach to that aesthetic that can makes it all the more impactful because it's not hammering into us time and again. In many respects, this album is the equivalent to a caveman wearing a monacle, because as refined as it is, this thing will absolutely, mercilessly kill you if you let it. 20 Buck Spin are onto a winner here; a slab of half hour death metal that is the epitome of No Think, Only Kill, Tzompantli's first full length release is a massive album that will strike you from all sides.