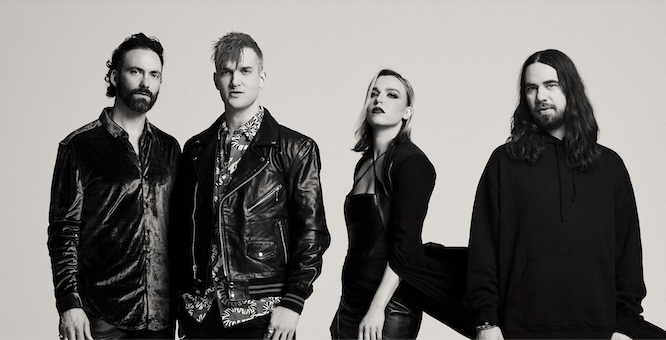 Album Review: Halestorm - Back From The Dead
Reviewed by Tim Finch
Halestorm are a band that should need no introduction over the course of the past decade plus they have forged their path, broken boundaries and destroyed the rock charts under the steerage of the inimitable Lzzy Hale. Just four studio albums have come so far, but with the number of hits under their belts it seems like they have produced so much more. This May sees the band release studio album number five 'Back From The Dead'.
On the bands recent 'An Evening with…" tour Lzzy stood out, her vocals so powerful they destroy, they mesmerise and so much more. From the opening seconds of the new albums title track she cries "I'm back from the dead", the vocals echoing through the listeners ear canal as the song progresses. It's a romping rock anthem to kick start their latest opus and a great place to start.
'Strange Girl' flips the usual Halestorm sound on its head. It's dark, dirty, and delivers a poignant message all powerfully driver home yet again by Ms Hale.
Halestorm have a knack of writing and producing top notch rock anthems, and on 'Back From The Dead' that form continues. The writing prowess of both Ms Hale and Joe Hottinger are the rock solid foundations that will keep Halestorm thriving for years to come. The duo are the perfect match both in on stage chemistry and as a song writing team. 'Brightside' and 'Steeple' two stand out tracks on the album highlighting the pairs talents. Whilst the ballad-esq 'Terrible Things' softens the albums hard hitting blows and again targets that talented vocal range.
Like a fine wine, Halestorm just get better with age and once again on 'Back From The Dead' they deliver.