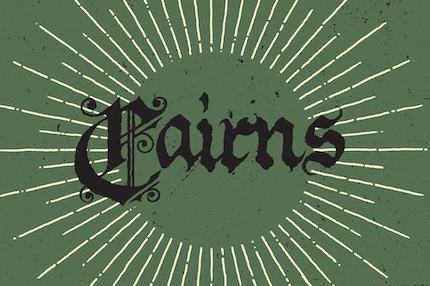 Album Review: Cairns - Keening
Reviewed by Rick Eaglestone
Clobber records unveil their latest signing Cairns who have unearthed ancient traditions of the North, with debut EP Keening.
Opening track, The Wicker Ablaze was the first offering with accompanying video from the band back in March so it's fitting that it starts proceedings as it perfectly encapsulates the band perfectly as it weaves from full on assault to sweeping melodies. I am big fan of David Buchan's drumming and have been sometime and I'm still in awe.
Things slow down for When Days Grew Shorter which is filled with a plethora of vocal harmonies & just sweeping guitar parts that just invoke emotion at every turn, at nearly 7 and half minutes it's the longest track of the EP but holds the listeners attention throughout.
The Eternal Sea follows suit but among the ferocity has some wonderfully discreet ethereal vocals from Anikó Tóth which complement both Chris Taylor & Steve Kilpatrick wonderfully.
Final track Haunted has to be my highlight track of the EP though, the basslines at the start that run throughout, the urgency and emotion in the vocals and those guitar solos weaving effortlessly have me wanting extra tracks and then going for the repeat button as I am not ready to step off this mountain just yet.
Keening was recorded and mixed by Joe Clayton at NO Studio, Manchester and will be released May 13th
A potent, awe-inspiring piece of atmospheric black metal