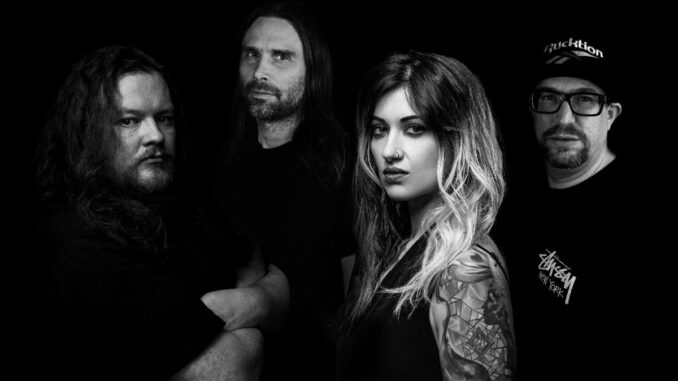 Album Review: Cage Fight - Cage Fight
Reviewed by Dan Barnes
We all used the enforced lockdown for different things: some got fit, some got fat; some got drunk; some got sober. I taught myself bass and started reading À la recherche du temps perdu. Whereas TesseracT guitarist, James Montieth, decided to focus his ire into a new project. So, along with bassist Jon Reid, drummer MC Nick Plews and former Eths vocalist, Rachel Aspe - and because the world wasn't angry enough already - so was born Cage Fight.
Whilst the DNA of Cage Fight is very much Hardcore, the four-piece use this as a starting point to explore all manner of musical aggression.
Cage Fight – the album – feels very much like a record of two halves. It is undoubtably an impressive debut by any standard, but the care and attention to detail in aiming those devastating musical bombs and detonating them at precisely the right time is remarkable.
The first half of the album sees Cage Fight unleashing their anger in short, sharp bursts. The Mirror Shattered launches straight into it after the Intro with some pummelling, aggressive hardcore, complete with machine gun guitars and raw vocals. Make a Decision picks up this fury, adding a killer solo and a grooving breakdown.
Cage Fight clearly have the chops to make a devastating and heavy hardcore record but by introducing supplementary grooves to the likes of Killer they have given it a far heavier and more destructive sound.
Hope Castrated hints at Slayer through its metallic instrumentation and Rachel's sometime Black Metal vocal lines and Guillotine thrashes away with an unmistakeable punk attitude.
The central track to the album is Cage Fight, a sub-one minute, hip-hop track that acts as a bridge to the second half of the record.
Here you'll find longer songs constructed around a more metallic hardcore sound and some serious chugging riffs. Shine Don't Fade, Tell Me What Is Real and Respect Ends are filled with ripping guitar and booming drums. One Minute even manages to load itself up with a killer guitar solo as it grooves through its four-minute run-time.
There's an obvious Death Metal influence to Eating Me Alive and features Trevor Strand of The Black Dahlia Murder; his appearance on this debut being fitting as Rachel was first introduced to James through a BDM cover in Instragram.
Closing out the album is a cover of Body Count's Bitch in the Pit but before that is probably Cage Fight's most surprising moment: the six-minute heavy prog of My Dreams that conclusively show the band are more than three-minute screamers.
So far, I have two appointments with Cage Fight: one at Bloodstock and one in Wigan, where they will be opening for the mighty Cro-Mags. With Street Solider on the bill too, that is looking to be one utterly devastating evening. Can't wait!