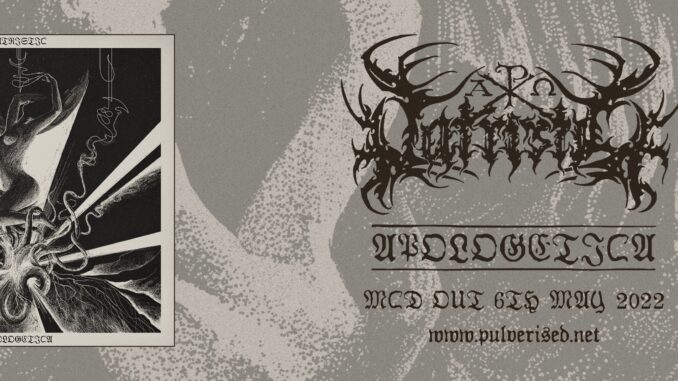 EP Review: Patristic - Apologetica
Reviewed by Daniel Phipps
Featuring members of both Bedsore and Hideous Divinity comes Patristic, a new Italian band on the extreme metal scene. Patristic play a particular style of black metal which relies on suspense and atmosphere as much as it relies on rage filled riff arrangements and intense drumming and the outcome of this style is the band's debut EP Apologetica.
It may only be three tracks however don't let this fool you into thinking this will be a quick and easy listen, 'Apologetica' treats you to a run time of over 20 minutes over those three tracks. Patristic opens the EP by subjecting you to 'Apologetica' and this title track is a mammoth number. Full of complexity this track has enough arrangements and riffs to fill two or three individual tracks and over its almost nine minutes in length, it has an incredible haunting dissonant atmosphere which is really special and adds so much vibrancy to the track. The machine-like drumming is executed to the utmost precision which adds that utter fury to the track. Now this fantastic opening could be both a blessing and a curse for Patristic as the remaining tracks of the EP have an awfully big task at hand.
Now the two part ending 'Praescriptio I' and 'Praescriptio II' consists of the first track of the two being more of a table setter for the final offering of the EP which is another lengthy affair, think of part I as a break between two bouts of fury. Part II has the same elements as the opening track but does not hit me with the jaw dropping awe that 'Apologetica' did regarding the sinister atmosphere it possesses. This being said the sheer fury found on this track matches the fury found in 'Apologetica', it may even have a more furious feel overall if I'm honest, instead of the more dissonant approach found during 'Apologetica'.
Patristic creates a blend of sinister black metal, which has cult status written all over it. They have the potential based on this release to create something absolutely masterful as the band progresses forward, it may not be to everyone's taste or understanding but for the right crowd they will be huge.